Name: Thayer Yates
From: Marquette , Michigan
Grade: 10
School: Marquette High School
Votes: 0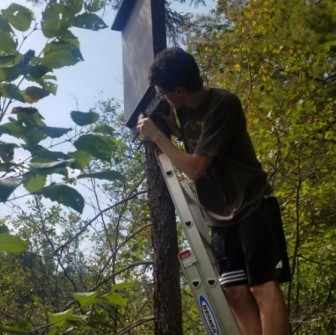 I've been in Boy Scouts since I was in 1st grade and
throughout that time I've volunteered for many community programs
as part of scouting and outside of scouting. My scouting unit has put
on programs for veterans, placed flags on veteran's graves,
conducted many patriotic ceremony's and flag presentations. We have
also raised money for underprivileged families and children, as well
as supported overseas stop hunger programs. I've advanced to Eagle
Scout, in part, by being actively engaged in community and
environmental sustainment programs over the last 12 years.
In addition to scouting I volunteer at my church on a regular basis,
and being inducted into the National Honor Society required me to
take on additional voluntary responsibilities more closely related to
school functions. On top of that, I am a leader of our school's
competitive FIRST Robotics team. Our team conducts many outreach
programs and other community enriching events.
I've chosen to assist in these areas because they give me a diverse
perspective on the needs of the community. Since I'm involved in
many volunteer programs I've also been able to use my position to
network communication between varying organizations and streamline
their effectiveness.
I volunteer about 4 hours per week. Some of my responsibilities have
included, selling merchandise, collecting and accounting for funds,
dispersing sold merchandise, communicating / marketing our efforts to
other citizens, recruiting, organizing and transporting volunteers,
and operating the media program at my church. My biggest challenge is
the coordinating of other volunteers. Trying to be accommodating to
their schedules and needs is important, but we also have a job to do,
as well. But, in the end it always comes together, and knowing that
I've helped someone less fortunate than myself is always
satisfying. So, what I've learned is to have faith, and know that
when it comes to a good cause, good people will get it done.
I hope to continue to have the opportunity to volunteer and therefore
will seek a position that is not so consuming that I cannot find time
to help others. The biggest change we can seek as volunteers comes in
the form of leading by example. Those we are helping will not let the
chain of giving end with them. One reason I volunteer is because I
don't want to ever have to wonder if I made a difference in this
world. Just like the story of the person that was helping starfish
get back into the water, someone pessimistically asked if that's
really going to make a difference. The person helping the starfish
said, "It makes a difference to this starfish."