Name: Christian Mcborrough
From: Brooklyn, NY
Grade: 10th
School: New Utrecht Highschool
Votes: 0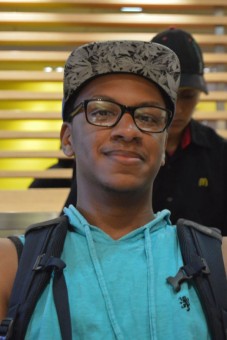 I had too much freetime on my hand. I would be bored out of my mind
just waiting for something to come flying through the window and
allowing me to go on an adventure to save the world. However that
never happened. So instead sometime in october in the year 2015, I
went out looking for a time passer. I wondered around my neighborhood
until I came across the Coney Island Lighthouse mission. I would
always walk by, but never was actually sure what they were and what
they did inside. I walked in asking some questions and walked with
them wanting me to come back and volunteer for them 3-4 times a week.
Volunteering at this place had taken some time to getting used to. During the day
they had me tutor elementary level kids. This was my first time doing
some type of actual work in my life so I wanted to make sure I did it
right. And so everyday I went in to tutor, I would make sure I knew
exactly how to help each kid that needed it (even though it was
elementary level work). The kids would call me Mr.Chris, made me feel
as if I was an actual teacher. After I finished helping them with
their hw I would either teach them a bible study lesson or I give
them snack time where they would eat and wait on their parents to
come up. When that was over I would help them set up for the food
pantry they ran in the night time. The food pantry was quite fun in
my opinion. You got to meet a wide variety of different types of
people everyday. Although some of those people may not have the best
of personalities, you get to have the feeling in your stomach knowing
that you're helping out the community. This feeling is what kept me
from coming back to the Coney Island Lighthouse Mission for 2 years,
until I choose to left to focus on school more.
To be honest, if I could I think I would go back to volunteer at the
Lighthouse Mission mainly just from all the good times I had there.
Helping out children and giving out food is not as bad as it sound.
Plus I also made some good connections there, so hopefully that would
help me sometime in the future. This is my volunteer experience.