Name: Taylor Rose Simkins
From: Liberty Township, OH
Grade: 11
School: Lakota East High School
Votes: 0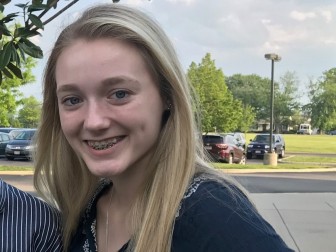 Hawks4theCure

I
have chosen to volunteer with Hawks4theCure to help support breast
cancer awareness. At the age of 15, a close neighbor died of cancer
and left her three kids, one autistic, without a mother. My mother
this past year was recently found with a mass in her breast that is
to be determined for diagnosis, with a history of cancer in her side
of the family. I want others to know the cost that cancer causes in
families and be aware of how one can watch for specifically, breast
cancer, in themselves to catch it at an early stage, to treat
immediately.
Throughout
the time I spent volunteering, we organized all the Breast Cancer
awareness t-shirts the school had made that were extra throughout the
past years of having the fundraisers. I helped set up the
Hawks4theCure booth where t-shirts, raffles, and breast cancer
awareness merchandise were sold. I made posters to put up around the
school and made daily announcements with a variety of facts to inform
my peers of the effects of breast cancer/ any cancer. Also,
organizing a spirit week for my classmates to wear different cancer
supported colors on specified days. I volunteered for Hawks4theCure
about 25 hours per week for 2 months. My biggest challenge as a
volunteer was getting my peers to listen to the messages I was trying
to convey to them. I knew on the announcements and through posters
that they wouldn't give much thought to what I was saying so I took
it a step farther and wrote messages on each board of the classrooms
and asked the teachers to try to go over the little message each
class. I reached out to my peers by talking to them about the
disease in daily conversations and asked for more volunteers to
pursue helping the fundraisers that my school had organized for the
cause.
As
a volunteer for breast cancer, I was most satisfied seeing all my
peers and classmates wearing all pink or orange or any of the cancer
supported colors throughout the day. Knowing that they did listen to
the message and announcements myself and other volunteers were trying
to get out there. Seeing the excitement from everyone, posting on
social media, trying to show school spirit and their support through
their outfits was also quite exciting. From my position, I have
learned that not everyone is going to listen to you the first time
around, that finding different ways to help your organization is
important and you must work hard at it if you are truly committed to
your cause. I learned that you can touch so many hearts by simple
actions and that truly is the meaning of volunteering.
Currently,
I want to pursue a career in the medical field, so this volunteer
opportunity was perfect for me to get an idea of how people respond
to the idea of breast cancer and add to my knowledge of health in
that topic. I want to help change the way others see breast cancer.
Rates of being diagnose with cancer have been relatively high and I
want my peers to take this disease seriously. Many don't even
blink an eye until it affects them personally and I want to change
that. I want others to help fundraise and help families who have
been affected by this disease. I want to be the difference in the
world that I want to see.
If
I came back in the future, I think my affects that I made would have
made a difference and pushed my younger classmates to want to
volunteer in the proceeding years. I do believe that they will take
my ideas from this experience and apply them forward to reach more
students and spread awareness to more aspects of our community.