Name: Lindsey Prestholdt
From: St Louis Park, Minnesota
Grade: 10
School: Saint Louis Park High School
Votes: 0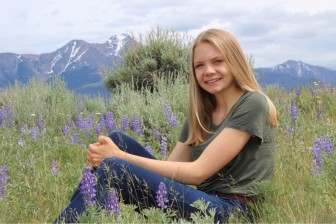 Lindsey
Prestholdt
Youth
Forward Scholarship: Healthy, Happy Heart
My
volunteering experiences
Sitting in the 107-degree room dripping in more sweat than I had seen in my
life. I was listening to the instructor as she told us to yell out
Ooom at the top of our lungs. This was the moment I noticed I was
crazy for health.
My first, volunteering experience consisted of teaching my community
about healthy living through Cooking Matters. One day, I found Julie
Rappaport in the local Saint Louis park bulleting I read that she the
head of an organization called SEEDs. I set up a meeting with her
where Julie explained to me how seeds believed in wellness for the
community and she was leading a program called Cooking Matters. I
then explained to her my passion for health and how I wanted to help.
This program offered free healthy cooking classes and groceries to
low-income individuals in the community. Immediately, I volunteered
to do all the grocery shopping and come every Thursday for six weeks
working as a cooking assistant for six hours. During my time as the
Cooking Matters shopper, I made many friends and shared my knowledge
about health and wellness. Furthermore, I learned valuable skills
such as money management, time management, organization and teamwork.
The work I have done has set a groundwork for the future of Cooking
Matters program.

The other way in which I have helped my community has been through my
Girl Scout Gold Award. This award was granted to me for directing and organizing the construction
of a new picnic area at my church.
This picnic area was built with the purpose of allowing people of the
Minnetonka community to gather in a safe area. Building this area
proved to be a challenge in many ways such as finding the donations,
communicating with others, planning, and organization. These skills
were new to me where I learned everything as I went. Additionally,
this project was completely self-lead and organized. I worked
tirelessly to form a team of 27 individuals who then worked together
to build this area. In one Saturday we cleared out space, added weed
preventer, laid down mulch and built and placed two large picnic
tables. Overall, this project required over 80 hours of planning and
implementation. This area has been worth all the hard work because I
have seen how it has promoted outdoor activity and increased
connectivity with nature. Throughout this experience I learned
leadership, organization and problem solving. I have also received
numerous reports of the picnic area positive impact on the community
and am confident that this area will last well into the future.
In conclusion, the skills I have learned from my volunteering experience
will be the groundwork for earning my degree in nutrition and
physical fitness. It takes a lot of sweat to get to where I am today,
and my hot yoga and I are not going anywhere.