Name: Ryan Call
From: San Antoino, TX
Grade: 9
School: Tom C. Clark High School
Votes: 0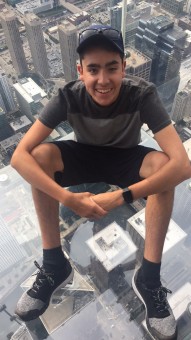 Helping
Others is the Greatest Reward
Every summer for the past four years I have been a volunteer at my church
for their annual Vacation Bible School camp, growing from a leader's
assistant to a leader of my own group of kids, I have to
responsibility of keeping the kids safe and the great opportunity to
teach kids about the Bible to some that have little, to no previous
knowledge. I do lose a week of my summer but helping kids grow in
their spiritual journey for four hours each day of that week is a
great feeling. Some days it's
hard to help the kids further their religious growth with questions
that are hard to answer to a young kid. But nothing is better then
leaving after the last day of the camp and seeing the kids that I
taught more about the bible having grown in their spiritual journey
because of the work I did. Also with my church, for three summers I
have taken another week to travel to a new place and do mission work
with my fellow church members. It's
hard to take that week during the summer without a phone and not
being able to sleep in daily, But past that, working alongside others
for the whole day grows us closer in the benefit of others, from
helping out another church or painting a house the end effect that we
see on another community is rewarding.
When i'm not helping at my church, I like to volunteer as the local Humane
society, I try to volunteer there for about two hour a month or more,
I help with adoptions and being an extra hand in taking care of the
animals in the shelter by walking the dogs, or cleaning cages. The
biggest challenge while I volunteer at the shelter is giving the same
care to less pleasant animals that you can tell have be through a
lot, because like many I am drawn to the cute puppies or the award
winning looking full grown dogs. But it's
always rewarding to see the animals finial find a forever home after
being found on the streets or abandoned by their previous owner.
From
any volunteering opportunity either a mission trip or just
volunteering time to a community member, many sacrifices are given
such as my time and energy. Sometimes it's
hard to get motivated to get up and no something knowing there is not
physically reward. But sometime a physical object such as money is
not a touching as the feeling that comes from volunteering. it's
not the service hours I get to turn into an organization to keep a
membership that's
the reason I volunteer, it's
the feeling that I receive from the time I spend helping others is
the greatest award.