Name: Muhammad Ali
From: San Antonio, Texas
Grade: 10th
School: Churchill high school
Votes: 0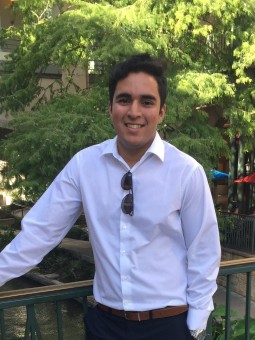 CPS Professional Goals
23 January 2017
Safe Internship
"Where is that plane going?"
"How fast can it fly?" I ask my tired mom at the airport.
Growing up I've always held an interest in planes. I wanted to know how they
work and what happens behind the scenes to make them fly so high. On
my 7th birthday my parents gifted me a small American Airlines model.
I felt overjoyed because I used to see planes in the sky and now I
had one in my hands. As the years passed by, I constantly searched
for fields that were related to aerodynamics and planes until I
discovered air traffic controlling. I played the ATC simulator on my
ipad and I really enjoyed it. Learning more about planes and ATC led
me to find aerospace engineering, it's exactly what I want to do in
my life. To design and engineer planes would be a dream come true. To
learn more about planes I have purchased numerous books. My favorite
plane is the Airbus A380 because it's the largest passenger plane in
the world and it's made traveling so much more efficient. I always
wanted to do electrical engineering at the same time because I feel
those two careers directly correlate with each other.
For the last 5 summers I've volunteered at my local mosque during the
month of ramadan. It's been a great learning experience because I got
to work with a network of people from all types of backgrounds. We
make food for people who can't afford food to break their fast. Our
youth group also runs an organization called "Feed the Need"
where we make kits full of food and clothing for the homeless. I
typically collect a total of 260 volunteer hours per year, that
accomplishment has made me eligible for The President's Volunteer
Service Award. Volunteering has taught me to be appreciative of life
and be gracious for the privileges that I have. I want to give back
and do as much as I can. To further enforce my mission I started to
volunteer for the San Antonio food bank and Habitat for Humanity with
clubs during the school year, which was a great learning experience
because I had the opportunities to talk to the victims and hear their
experiences and share knowledge with them.
I am currently the president of my school's math UIL team. Joining the
math UIL team has been amazing because I've made new friends,
improved my skills in math, and grew my confidence to ask questions
and stay curious. Our math UIL team made it to regionals which was a
proud moment for all of us because our hard work and effort had paid
off. I was recently inducted in the National Honors Society, to be a
part of NHS is a huge accomplishment for a highschool student. NHS
inspires me to work harder and to keep on pushing for my beliefs.
"Kind words are short and easy to speak, but their echoes are endless".
This quote was said by Mother Teresa. I try my best to live by this
quote, Even if people aren't kind to me, I always greet them with a
smile and ask them how they're doing. For me the true key to
success is three things: be kind, be honest, and never give up. I've
tried my best follow these three keys because I know they will lead
me to success.