Name: Alejandra Carrillo
From: Olathe, Kansas
Grade: Freshman
School: University of Kansas
Votes: 0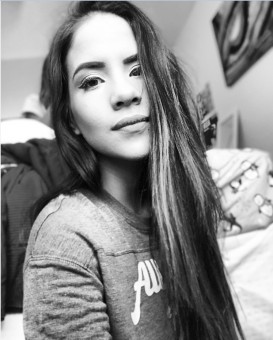 Ale
Carrillo
28
December 2017
Hermanos
Sin Fronteras: My Story
Volunteering
can be cultivated through different forms. Whether it be an education
requirement or a desire to help others, different motives bring
different people together for one common goal – and that is to
serve the community. My journey as a community volunteer started
early in life and has since become a part of my innermost identity.
During my first year as a student at the University of Kansas, I
found an opportunity that captured my heart and mind for years to
come. When searching for local service projects, I ran across a group
called Hermanos
Sin Fronteras,
or HSF for short. This humble group consisted of only a few
participants and was rooted to help in-need Latino youth through
social enrichment. As a Latina myself, I understood the lack of
resources available for this particular cohort and was instantly
motivated to help.
Mirroring
a Big Brother Big Sister program, HSF paired volunteers with a
younger "sibling" to provide guidance, as well as valuable social
opportunities throughout the community. This included trips to the
library, visits to the community center, and even the occasional stop
at their favorite pizza joint in town. I was fortunate enough to be
paired with two young girls named Lizzy and Jackie – a pair of
sisters from Oaxaca, Mexico. Each Saturday, for three years, laughs
were shared and tears were shed in the growing bond we called our
friendship. This opportunity taught me the challenge of mentoring
others with life experiences, memories, and hardships unlike my own.
I felt at a loss of words when they opened up about their father
being deported. Or even their desire to see their family in Oaxaca
and taste the rich food that their abuela
made. "If
only one last time…",
they would say. However, it was these challenges that also
enlightened the crucial role of courage, character, and direction in
shaping the leaders of tomorrow. It was crucial to bring this diverse
experience to my university, for programs like these were exceedingly
important to the community, yet critically scarce. With the help of
my fellow volunteers, I pushed and succeeded in establishing HSF as
an official club at the University of Kansas. A minimum of 15 hours a
week were invested in spending time with the kids, planning, and
attending meetings.

I
was honored that a program that was designed to mentor Hispanic youth
–a population growing at astounding rates– would finally be
accessible to all who wished to help a needed cause. HSF is
forward-looking as it generates a sense of hope for those that are
often overlooked by society. It is my goal to cultivate such an
opportunity for Latino youth across the nation and inspire a sense of
imagination and ambition within each child, as well as volunteers. I
am confident that I will look back at HSF and smile at the young
adults –who once part of the program– that were not faced, but
rather encouraged to follow the dreams that once seemed unfeasible.