Name: Jaelen King
From: Blythewood, South Carolina
Grade: 18king@heathwood.org
School: 18king@heathwood.org
Votes: 0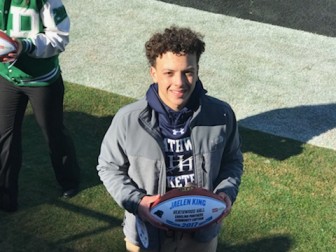 Basketball has been a part of
my daily life since I was a little boy running around the house
getting yelled at for bouncing a ball inside. As I have gotten older,
I have channeled this passion for the game into a constructive and
beneficial activity by starting a training organization with my dad.
We train kids varying in age from 5 to 19 about the basics of
basketball but also about life skills through our I'm Meant To
Be(IM2B) mentorship program. Typically, I will help train and mentor
kids about two times during the week and then once on the weekend
during the school year, but during the summer we train about 5-6 days
a week. The training sessions can last anywhere from an hour to four,
depending on how many kids want to come. As a trainer and mentor, I
help organize and run the various drills we put on as well as speak
with our various trainees when they have issues in school and at
home.
The biggest challenge that I
have had to deal with was also my most rewarding experience. We were
able to host a donation based basketball camp where all of the
donations went to benefitting Lighthouse for Life, a local
organization that seeks to educate our community on sex trafficking
as well as restore and empower sex trafficking victims. Putting on
this camp was a challenging endeavor, as there were various problems
that I had to be tackled in order to ensure it was a success. We had
to make flyers in order to help get the word out, secure a gym, set
up a camp schedule, organize for a speaker to come, and ensure that
parents stood to hear the message instead of just dropping their kids
off then leaving. The camp ended up being a huge success, as we were
able to not only raise $750 but more importantly a spokesperson from
the organization came and gave an informative lecture to the parents
about just how serious this issue is in our local community. This
speech caused for the parents to then go tell their other friends,
which led to a domino effect in which we helped enlighten the greater
Columbia area about a serious issue.
Looking forward, I hope to
continue working with young people, as the only way progress can be
made is by preparing the youth to further the accomplishments you
have already made. Life is much bigger than basketball, and I believe
that through our IM2B mentorship program we are helping prepare young
boys and girls to be more than just basketball players; we are
helping them to become better people. Through my volunteering, I hope
to change the mindset of children from how does this benefit me to
how may my gifts benefit others. Change is a long and slow process,
but I believe that by helping foster positive thinking in the youth,
I am helping to make my community a better place.