Name: Rachel Gebhard
From: Birdsboro, Pennsylvania
Grade: Sophomore
School: Twin Valley High School
Votes: 20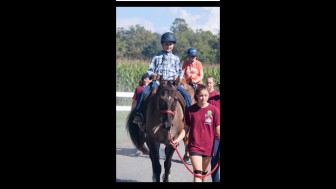 Beginning in my junior year, I chose to volunteer with an assisted riding
program for mentally, emotionally, and physically disabled persons.
My original goal was simply to gain experience in working with large
animals since all of my classes had been with small animals, but that
quickly grew into a passion that is now the focus of my career goals.

When I first started, my hours at the barn varied by week; in my first few
months I would be there only about 2-5 hours a week because new
volunteers have limited roles. I first learned how to groom a horse,
and sidewalking and leading. Once school ended, I would be at the
barn anywhere from 10-18 hours a week. I was given more
responsibility as the instructors saw my interest and skill. Now,
any extra time that I have, I sign up to go down to the barn. My
responsibilities as a volunteer ranged from general barn maintenance
to assisting the instructors and riders during lessons.
My biggest challenge as a volunteer is to safely, but efficiently, lead
horses in a way that matches the needs of the rider during each
lesson. As a leader, you have to pay attention to the lesson and the
horse so that you can keep control of the horse, allowing the rider
to have success. The need for direction varies in difficulty for
each horse you work with.
As a volunteer, it is the most satisfying when you can see a happy rider
and watch, first-hand, as they improve. To see a rider who gets out
of his or her wheel chair and is finally able to confidently trot a
horse after endless hours of work is absolutely incredible.
My position as a volunteer has taught me many things about horses,
managing a farm, and working with disabled persons; but it has also
taught me how to remain calm in stressful situations, and how to
efficiently use extra time. I personally have always known that I
wanted to have a job working with animals, and after volunteering at
the assisted barn I have decided to major in equine assisted
therapeutics in hopes of one day starting my own assisted program.
Assisted riding is a growing field, -making it a very progressive
activity.
By volunteering, on a small scale, I hope to make at least one rider's
day better. On a large scale, I hope that people become more
knowledgeable about mental and physical disabilities and how other
people can help them both with and without animals. If I could come
back in a few years, I would hope to see the assisted riding program
thriving, growing, and more accessible to people who could benefit. I
would hope that the ideas and fundraisers that my fellow volunteers
and I organized would have informed the community about disabilities,
bring more people to the barn to help the riders, and continue
putting smiles on all the riders' faces.