Name: Ashlan Marion
From: Mooresville, North Carolina
Grade: I am a current Senior, the 2015-2016 school year I was a Sophomore
School: Community School of Davidson
Votes: 0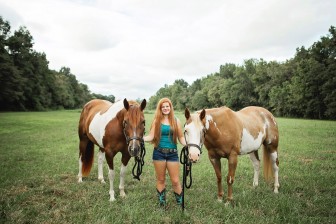 I
have volunteered with multiple organizations over the years,
including Habitat for Humanity, The Ada Jenkins Center, the Habitat
Restore, Great Dane rescue, and many others. Then I stumbled across
the Horse Protection Society, and I have been there ever since. I
started volunteering in the beginning of 2015, and I am still
volunteering at least once a week almost three years later. As the
years have gone by I have become more involved, and have become an
"on call" feeder. If something goes wrong, or if a feeder is
unable to come in, I am called and I fill in for as long as needed.
Over the summer this happened for 6 weeks straight, and then just
recently I filled in for a week when a full time feeder quit without
notice.
I
have always loved horses and started riding when I was 5. I now own 2
horses. What better way is there than to give back to the horse
industry than to help rescue and rehabilitate starved and abused
horses? I am reminded every day that I am there just how important
places like this are. I have seen horses that have come in shot,
unable to stand on their own, and with atrophied muscles because they
are so starved their body has retracted them to use the fat. And then
to see these same horses that had been knocking on death's door a
few months prior running around the fields free and healthy, I have
yet to find a better feeling.
I
volunteer at the rescue for 3 hours at least once a week, although
sometimes it gets up to 6 times a week. I have missed a week or so
here and there due to being out of town, but I haven't gone a month
without volunteering there since I started. I have worked my way up
to be what is called a "main feeder," which means I am
responsible for bringing in horses, doing waters, mixing feed,
feeding, medicating, and turning out, for 35+ horses. It depends on
the day whether I am by myself or not. My biggest challenge as a
volunteer has been getting over the fear of leading a group of
people. When I first started I was extremely shy, I would make my mom
go with me to ask questions. Eventually I had to face my discomfort,
and to a certain extent fear, and now I am in charge of directing
volunteers where we need help, and I have even trained three of the
feeders that have been employed.
My
goal is to become a Large Animal Veterinarian, so the experience of
seeing different cases with these horses will be extremely
beneficial. Horses are always going to be a part of my life, so
volunteering here has given me a platform of knowledge that I will be
using for the rest of my life.
If
I came back years later, all of the horses I knew and helped could be
gone. Maybe because they were adopted, or maybe because they passed.
But the rescue will still be standing, there will be horses, new and
old, and there will be the volunteers. Maybe some of which I've
trained, maybe not. But I know the knowledge and care that I have
given will be passed along from volunteers now to volunteers in the
future. It might not seem like a horse rescue is changing the world,
and maybe it isn't. But it is changing the world for every single
horse that sets foot at the rescue. Whether that means they are
rehabilitated and placed into a new loving home, given a secure place
at the rescue where they can live the rest of their life healthy, or
for those who are too far gone and are simply given a peaceful last
few moments filled with hay, loving hands, and shelter before they
cross the Rainbow Bridge. If all I have done is help provide a family
their dream horse, a refuge for people to escape to during their
crazy life, or simply a haven for horses to live out the rest of
their years, that is something I can be proud of.