Name: Rebecca Scordino
From: Clearwater, FL
Grade: 10th grade
School: Osceola Fundamental High School
Votes: 0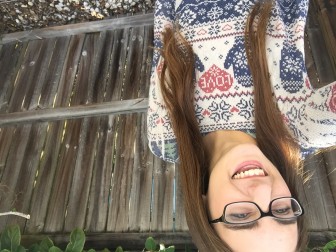 Rebecca Scordino
A person can impact another's life at any time. It does not matter
about their age, gender, or any other stereotypical adjective. For
the past four years I have dedicated over 100 hours as a volunteer at
Suncoast Hospice. Hospice is an organization where men and women
facing end of life can peacefully live out the rest of their days in
any setting under the special care of a team of health professionals
and trained volunteers. The team provides the patients and their
families with physical, spiritual and emotional support. The elderly
men and women with whom I have interacted with held onto a piece of
my heart, where I can carry their joy and wisdom with me where ever
my life leads me.

At Hospice, I have been a part of many social events including birthday
parties, anniversaries, and other fun activities where volunteers
spend their time making crafts for the hospice patients. At these
events, my job ranged from decorating a room, to making blankets and
actively listening to a patient's life story. Once, I was given the
opportunity to video World War 2 veterans and their stories. For an
entire day I listened to the patient's tales of the tragedy and
hardships that occurred in that time.
The biggest challenge about volunteering at hospice is having to see
people who are very close to death. Many are forgetful and tired.
However, I know that hospice care is the best solution for them. Some
patients have given me advice on how I should approach my everyday
life. One was a 97-year-old named Sue. She told me that, "in any
circumstance you face, conquer it with positivity and love." Ever
since that day, I have taken her advice and handled all my challenges
with positivity and love.
My volunteer coordinator always tells me and the fellow volunteers that
our sacrifice of helping always makes the patients feel wanted.
Realizing that giving a little of my time gave an enormous amount of
happiness to others, pushed me towards my goal of making everyone I
meet feel hopeful for the future. I have learned that even the
smallest pea sized donation can seem like mountain in another's
eyes.
My future plan is to major in mechanical engineering, so I can pursue a
path in developing prosthetics. My time at hospice guided me to the
conclusion that I want to spend the rest of my days helping those who
feel helpless.