Name: Evelyn Claire Haynes
From: Murfreesboro , TN
Grade: Freshman high school
School: Riverdale High School
Votes: 1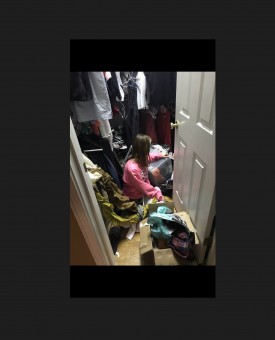 How do people remember you?
"Life's most urgent question is: What are you doing for others?" –Martin Luther King
What am I doing for others? I am a high school senior, in this generation
when you look around you don't see countless people wanting to
volunteer. Volunteer? Who would want to do that? I would love to
anticipate that once one volunteered one time they would experience
the satisfaction that comes from it as I do. Volunteering gives you a
shot to refine people's lives as well as your own. It all started
when I was little and going to church every Sunday was just what my
family does. My church was consistently collecting shoe, shirts,
pants, anything to go deliver to the homeless shelter. Well when I
got home that afternoon and found out about this, I cleaned out my
closet, my dad's closet, and of course my mom's closet. As little as
I was I knew that if I were one of the people lacking my needs to
live I would envy any help given. I hauled as many belongings as my
parents would let me over to the church. Every week I went to find
more clothes. I went to both my grandmother's houses and my aunts and
uncles houses. I just knew I wanted to help. After a few weeks had
gone by the director of the church asked me to go with her to deliver
what we had collected to the homeless shelter. I was thrilled. I
actually got to meet these people? When we got there the people were
so entertaining, we cleared out the truck and stuck around for a
while. While we were there I got to help serve them. This was the
best day of my life, but I remember I was the only kid there; there
were no teenagers, only adults, why? It didn't much matter to me at
the time, but as I got older I got preoccupied and didn't have much
time to go. I used to go every two weeks. When I started high school,
I tried out for the cheer team and we do a lot of volunteer
activities, for example: run 5k's, feed the homeless, feed people
at church, a cheer clinic, and a lot of other things. As I mentioned
feeding the homeless was one of the things that my cheer team did. I
haven't been to the homeless shelter in about five years. The
cheer team was helping feed the homeless and one man asked me if he
knew me from somewhere. I didn't really remember. He asked if I had
ever been there before and I told him I used to come every two weeks.
He said you are the little girl that gave me a lot of my clothing I
have today. He remembered that I came and gave clothes to the
homeless shelter. He told me I had transformed his life. Why not
splurge a little time to assist others? Volunteering is not only
effective, but it's an amazing way to meet people, learn, and
expand social skills. Stick some time and energy into helping others,
it's not all about you, and just because you have a great life and
all you need doesn't mean everyone else does too. If you are having
a bad day just remember someone else has it worse. To contribute
clothes, food, warmth, etc, to people who have not a thing does not
take that much time. Remember what goes around comes around. What are
you doing for others?