Name: Conner T. Hageneder
From: Succasunna, NJ
Grade: Senior - High School - Graduating June 2018
School: Roxbury High School
Votes: 0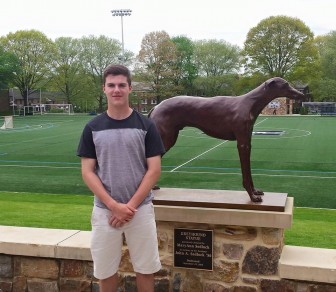 Saturday mornings are my favorite: sleeping in my comfortable bed, lazily
wakening to imagine the possibilities of how to spend the day. Some,
though, don't have this luxury. Many struggle even to find a place to
sleep, each day bringing the worry of finding food, securing dry
clothing, and then repeating the cycle. I have seen this struggle
first hand when I volunteer at the interfaith shelter at my church.
Aside from making me appreciate the life I have, my work at the
shelter has made me reconsider the plight of homeless in America and
has encouraged me to do more.
For one week each month my church hosts Family Promise, a nonprofit program that aims to
transition families from homelessness to permanent housing. We offer
healthy meals and a safe place for families or individuals who need
help getting back on their feet. Five years ago, while at church, I
was asked if I could lend a hand. Not sure exactly what we'd be
doing, I said yes and to my surprise, I was asked to help transform
our church space into a home. With the addition of couches, dining
tables, and a television, our worship space became a living area.
Smaller rooms where I attended Sunday school became private bedrooms
for families and individuals. I was not really sure about the
particulars of the program, but I left feeling excited that I had
been able to help people in need, even if it was only in a small way.
The next month, I returned and now five years later, I still eagerly
volunteer my week each month.
The time I spend with Family Promise has given me insight into the issue of homelessness. Some
believe those who are homeless just are not applying themselves and
feel that they are ultimately to blame for their situation. I know
this is not true. I have met those who have lost their job because
they were the newest hire, with no immediate job options. Others have
been overwhelmed by health issues resulting in medical bills that
derailed their futures. Those with children are particularly
concerned with providing their children stability and a chance to
escape the endless loop of poverty. Each individual's story is
unique but rooted in a common theme: circumstances and luck direct
more of our lives than we know. The biggest challenge I face when
volunteering my time is accepting the fact that I cannot help
everyone, that there are those out there unaware of these types of
programs or worse yet, unwilling to accept help from others.
While my career goals are not the same as my volunteer efforts, I will
continue to try to change the lives of each family I encounter. If I
can bring some hope to their lives, then they may look forward to a
brighter future. Thinking ahead, I cannot imagine looking back to
this time and ever thinking that I would not want to do it over
again.