Name: Jordan Ria Alexis
From: Roswell , GA
Grade: 11th
School: Centennial High School
Votes: 0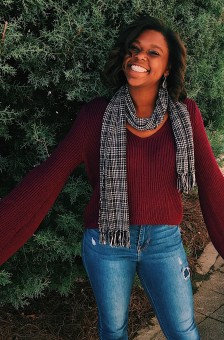 November 12, 2016 was the first time I served at Safehouse. Little did I know,
that day my life would change and my eyes would open.
Safehouse Outreach is a non-profit organization located in downtown Atlanta
that supports homeless people in order for them to get back on their
feet. Flood, which was a club I had joined was how I found out about
this organization. I also needed service hours for Church, so I
thought this would be a great opportunity. Toward the end of the car
ride down, I started to get very nervous. I don't go downtown very
often, and the few times I have, I have felt very unsafe and out of
place. I had very limited information about this place and I like to
know what I'm getting myself into.
We reached our destination and suddenly, I became extremely hesitant. It
was dark, the building was deteriorating, and the whole aspect made
me rather melancholy. That feeling would soon wither away. As soon as
the volunteers entered the building, we separated into groups based
on jobs. I was assigned to food alongside three other girls who
seemed to be friends. They were talking and laughing while I was
quietly setting food on plates. I told myself, "In order for you to
have a good time, you need to assert yourself." It was scary, but I
did.Soon enough, I would also be talking and laughing. The lonely
outcast feeling had disintegrated, replaced by comfort and joy.
The next event would be a beautiful praise and worship session followed
by an empowering talk about hardship and struggles. These two things
were absolutely breathtaking. To this day I remember the feeling
caused by these two events. The band sang songs touching on the
topics that God is always supporting you , always loving you, and always
planning the best future for you. The talk focused on the
excruciating pain and battles we face in our lives. Everyone has
their cross to carry and you have yours. No matter how hard it might
be, no matter if you cannot see the light at the end of tunnel, no
matter if you feel like giving up, you can't. You cannot
give up. She said, " You were given this life because you are strong
enough to live it."
This first Flood service project I volunteered made me who I am today. At
this project, I met my best friend, Stephanie Hughes. I pleaded and
begged her to put me on Flood leadership for our school. This year I
became vice president. Next year when she leaves, I will take on her
position as president. Through Flood, I have not only made my life
purposeful, but also impacted the lives of people in need. The smiles
on their faces, the happiness in their eyes, and the sound of their
laughter warms my heart. These people struggle and go through the
unimaginable. Since I have so much, I obligate myself to making sure
they know they can withstand anything.They are not alone through
their hard times, and they are capable of an amazing future.