Name: Megan M DeGeer
From: Eastpointe, Michigan
Grade: Junior
School: Lake Shore High School
Votes: 0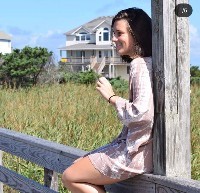 Megan DeGeer
21 December 2017
How Small Impacts Can Change The World
Over this past year, I have dedicated over 240 hours of volunteer time. I
believe you should volunteer because you feel you need to do so, not
doing it as a requirement for high school graduation. For myself, I
volunteer at McLaren Macomb Hospital four to five hours a week.
Throughout this experience, I have learned many things including how
to talk with emotional individuals, how to react and talk about
sensitive and tragic topics regarding a family members health. I also
have learned many skills on how to keep going even through hard
times. A lot of these patients have gone through the wringer and just
hearing their stories inspires me to persevere and makes me realize
that I can really push through anything if I just try. The most
satisfying moments of my volunteer time is when I can make someone
feel something other than the negative. Seeing someone perk up and be
happy after going through so many emotions whether it be grief,
disappointment, or pure boredom, makes me feel so right and happy.
When I speak to people, and I get a positive response or even a
simple "thank you", I feel like I am doing something so
significant and helpful, it puts me in a great mood for the rest of
the day! Although I love volunteering and would never go back to my
life before it, there are some challenges. One of these is very
common in hospitals; grief. After meeting and talking to so many
patients, to see something bad happen to them or to see them leave
makes me feel really dejected at points. When you volunteer, no
matter where it is, I believe it is important to build relationships
with everyone you meet to get life advice and different points of
view, so when you build these relationships, it can be really
difficult leaving someone and never seeing them again. Another
challenge for me was gaining people skills. Before volunteering, I
was pretty shy when it came to new people, which is fine. But, when
it comes to the real world, I realized I needed to learn how to talk
to people. So, volunteering at McLaren has forced me to branch out
and learn how to talk to people. My career goals are really in line
with the volunteer work I am doing. I would like to be some type of
nurse in a major hospital, which involves being open and talkative.
What once was a challenge is now one of my proudest skills!
All in all, volunteering has really broadened my horizons and opened up
my mind to many things and I will continue to volunteer as long as I
can to hopefully make a big change in the world!