Name: Haley Coe
From: Madison, Wisconsin
Grade: 11
School: Madison Area Technical College
Votes: 0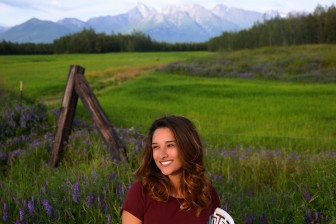 How
to Save a Life
Between 2014 and 2016, Wasilla High School lost two students to suicide;
Bruce Lee and Jeremiah Parret. The summer following Jeremiah's
death, I was invited to a suicide prevention program called "You
Are Not Alone" (YANA). I fell in love with the program and felt
that it could substantially change the stigma surrounding suicide. To
have the ability to recognize who is suffering from suicidal
thoughts, we must first address suicide and its causes, while being
open as a community to learning about it. As students of a
grief-stricken school, we adopted YANA and presented it to our
classmates at WHS. It grew rapidly and became a well-recognized
program throughout the entire school district. We have trained
thousands of students to recognize the signs and symptoms of suicide.
This consisted of giving hour long presentations to our school of 1300, to
teachers in staff meetings, to classes from other schools, to hosting
events with our entire school district, to traveling all over Alaska
to present. We spent about an hour a week practicing our
presentation, and the presentations fluctuated. We'd have weeks
with no presentations, and we'd also have weeks with five or more
presentations. Currently, Alaska holds the highest suicide rates, and
our goal is diminish that. For example, Ketchikan, Alaska is a very
small village with skyrocketing suicide rates. The community does not
welcome counselors or anyone that is trying to prevent suicide,
because they believe it makes the rates go up. In 2016, YANA received
a grant to fly three people to Ketchikan to present, meaning that the
community finally accepted us to go help! This was a huge
accomplishment knowing that we were the first to educate people on
suicide within their community.
Suicide is a difficult topic to discuss in any crowd of people, so imagine
discussing it to hundreds of people. It was a challenge for me to
feel okay educating people on such a serious topic, and filling them
with sorrow. It can also be really hard, because as members of YANA,
strangers see you as a trusted person, and will ask you personal
questions in confidence that you have the answer. It's important to
make sure your answers are thought out and factual- not just
opinions. Knowing that my words and answers had so much weight ended
up being a lot of pressure on me.
YANA is a challenge, but it is rewarding and life changing. I have been
thanked by a countless number of peers and take pride in knowing that
I have taken positive action to address and change a problem in my
community. I have found that YANA is not for the lives that we have
lost, but for the ones that are still fighting. It has changed my
perspective of the value life has. I greatly appreciate my school and
district recognizing a problem and allowing me to collaborate with
professionals to address this major problem in our community.