Name: Jeremy Scott Linaburg
From: Winchester, VA
Grade: linaburgjs@battlers.ab.edu
School: linaburgjs@battlers.ab.edu
Votes: 26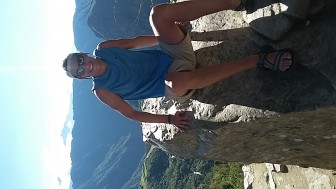 Inspiration
leads to Inspired Individuals
The Special Olympics Oath states, "Let me win, but if I cannot win, let
me be brave in the attempt." This quote has an everlasting impact
on my life and has inspired me to do my best no matter what.
My volunteer work centers around helping others, but more importantly,
those with disabilities. The Special Olympics program in Winchester,
Virginia was instrumental in developing my love of volunteering. I
began volunteering with this organization my freshman year in high
school. Since I was a swimmer, I jumped into coaching the swimming
Special Olympics group of athletes. I would finish my practice or
meet on Saturdays and travel to the local community facility to work
with the athletes for about 3 hours. We worked with a group of
individuals that could not swim, and my job was to teach them how to
be comfortable in the water and the basics of swimming. This was a
special time for me because this is when I created a personal
relationship with one of the athletes who is now a lifelong friend.
He was extremely afraid of being alone in the water. However, by
working together and creating our remarkable personal relationship,
he was able to overcome his fear.

My third year volunteering with Special Olympics was by far the best year because it's when my
friend- thanks to our determination- finally learned to swim! His
pure joy was so evident that he gave me a huge hug and later won a
silver medal. It was a rare moment in life that takes your breath
away and the most special moment I have ever experienced. Both he and
I were so happy that we didn't know what to do with ourselves. My
mentor with Special Olympics once told me that I would get more than
I give- how true of a statement! As a water safety instructor,
lifeguard, and manager at a pool, this love for helping others grew,
and I began coaching and teaching swim lessons to kids of all ages.
My expectations are high for each and every individual that I coach
and help. Every year, I work with similar individuals who don't
like swimming, but by the end, they are swimming across the pool, and
we create a most memorable relationship. Their inspiration and drive
is what encourages me every day to do the best I can possibly do as a
colligate swimming athlete, and I think about my extraordinary friend
from Special Olympics every single time I jump into the water to
compete for my university. My goal in the future is to utilize my
business administration and entrepreneurship degree to build an
aquatics facility in my area and help to create a renowned national
program for our Special Olympics team inspiring individuals to love
the sport. This inspiration and drive comes from my volunteer
experience with Special Olympics and my forever best friend who
motivates me every day.