Name: Emily Nolan
From: Hilliard , Ohio
Grade: 10th
School: Hilliard Darby High School
Votes: 0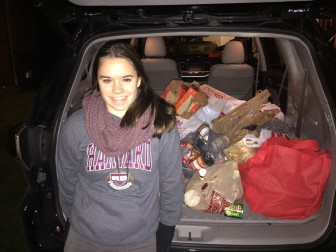 My
passion for helping those less fortunate than me began at a very
young age. Whenever my family went downtown to see plays at the
theater, I was always the little girl who wanted to stop and give
money to the homeless man or woman begging on the street corner. So,
in the fifth grade when I found out my community had a food pantry, I
decided to start my own food drive. The biggest obstacle became how I
was actually going to pull it off. I considered a door-to-door food
collection, but worried that no one would ever open the door for me.
I remember looking outside and seeing our Halloween decorations when
I had the idea. I realized that in a few weeks, every one of my
neighbors would be home and would be answering the door repeatedly
for one night: Halloween.
I
named my food drive, "Cans instead of Candy," and planned to go
around my neighborhood, ringing doorbells and asking for a can for
the food pantry instead of a piece of candy. On trick-or-treat night
I set out determined to make a difference but unsure how the drive
would be perceived. I collected an unexpected total of four hundred
cans that night. I remember tears welling up in my eyes as I held the
four-hundredth can in my hand and looked out into the sea of cans
flooding my garage. I truly could not believe how many people my
donation was going to help. The drive was so successful that year
that I turned it into an annual event and this last year was my
eighth consecutive year of "Cans instead of Candy."

Over
the years I have collected hundreds of cans in a very short amount of
time with this past year being the all-time record of 532 cans in two
hours. I have educated every person in my two hundred house
neighborhood about the pantry, where it is located, and the
struggling families their donations are going to help. Through my
actions I have inspired the people in my neighborhood, whom after
eight years know me by name and have bags ready and practically
spilling over when I approach their doors on trick-or-treat night.
Not only have I impacted the residents of my neighborhood, but my
donations also help the three hundred pantry families that are
financially struggling to put food on the table.
This
drive has been the most rewarding experience of my life and has
allowed me to become friends with people all over my neighborhood.
Every year I have been praised for my generosity and my commitment to
giving back to my community. This project has taught me to be
independent, assertive, and compassionate from a very young age. I
hope to use these skills I have acquired to one day run a non-profit
organization so that I can continue to always give back to my
community and the world.