Name: Kathia Valdez
From: Fresno, California
Grade: Freshman
School: California State University, Fresno
Votes: 18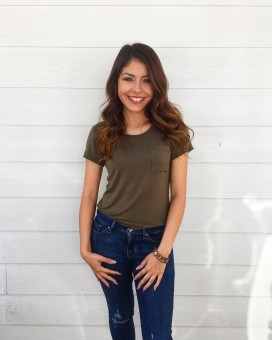 Kathia
Valdez
Inspiring
Softball Youth
I have volunteered as a youth softball coach. The reason I chose to
volunteer as a softball coach was because I was a former softball
player that had been inspired from the sport due to the life lessons
I learned while playing this sport. I felt the urge to give back to
the softball community in order to give young women the opportunity
to experience softball the way I had enjoyed and experienced it and
how it impacted and shaped me into the person I am today.
In addition, the softball league I volunteered at was the same league that I had played in, between
the ages of twelve and fifteen. I volunteered about twenty hours a
week for the Reedley ASA softball league between the months of
February through June. Although I did continue to assist the ASA
softball league during summer ball, which was from June to July. My
responsibilities as a softball coach were to organize and schedule
practice sessions, train and coach the players, organize practice
plans, determine game strategies based on the team's capabilities,
and maintain and secure softball equipment. In addition to these
responsibilities, I also taught the players the importance of being
responsible and confident in themselves by the motivation speeches I
would give during practices and games. The biggest challenge as a
softball coach was recognizing the potential in the players and the
players not recognizing it in themselves. One of the strategies I
used to overcome this challenge as a coach was to continuously
encourage my players that they were better when they believed in
themselves.
I was most satisfied as a coach when I would notice the players on the
field and see their joy they demonstrated on the field by the way
they communicated with each other, the way they dedicated their
abilities to push themselves out of their comfort zone, when the
players would be thrilled because they made a good play on the field,
or hit a bomb to the outfield and had no idea they were capable of
doing that! I was most satisfied not only watching these players
better their softball abilities from the beginning of the season to
the end, but noticing the growth of these players developing into
incredible young women as well.

            I have learned many valuable lessons from this position, however the most heartfelt moments from
this volunteering position is that I am a role model to these
players. Even when the season ended I would love running into my
players around the community and they would be eager to see me
because they looked up to me as a former player, a coach, and as a
young woman. That's the best opportunity I can possibly have, is to
be a role model to other girls. I believe my volunteer as a coach did
make a positive difference in the players because I hope I helped
better their softball skills and skills as young woman.