Name: Alexis Labrada
From: Piscataway, New Jersey
Grade: 11
School: Piscataway High school
Votes: 0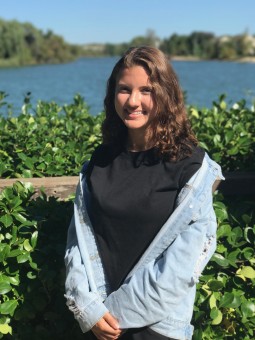 Throughout my years in high school I have fell in love with volunteering. During
the school year I volunteer as a coach to help athletes prepare for
the Special Olympics. The Special Olympics is a time for individuals
with special needs to show off their extraordinary talents. During
spring and winter practices, all of the coaches and athletes arrive
at the football field (Spring) or the bowling alley (winter) twice a
week and each practice is 2 hours long. I volunteer as a coach
because I receive an endless amount of joy when I see the athletes
work extremely hard to reach their goals for the season.
As a coach I motivate the athletes to do their best along with assisting
with their techniques. During the spring one activity that they do
during every practice is running around the track. After running a
few laps some of the athletes tend to get a bit tired and want to
stop running. When I see one of the athletes giving up before they
ran the number of laps they are supposed to, I immediately run to
them and cheer them on: "Come on you are almost done, you can do
it! Don't stop running until you get the gold!" Once they hear me
believe in them, I see a fire lit in their eyes, I allowed them to
find the determination inside them. This even goes for the winter
season, whenever an athlete does not knock down any pins and
expresses that they do not want to play anymore I express to them
that they have to keep practicing in order to get better. I then show
them some techniques that would help them knock a few pins down.
My biggest challenge would be getting all of the athletes to want to
participate in all the activities that we plan for them, however,
some athletes simply just refuse. If an athlete refuses to
participate in an activity I can't force them to do it but it is
better if they do. The activities that are done during practice are
to help the athletes become more prepared for the Summer Special
Olympic games. All of the coaches want to see the athletes become
better so that they will win a medal during the Olympic games.

When it is time for the Summer Olympic games I go down south to the
games to support my team. When I see the athletes I have been working
with all year participating in an event at the Special Olympic games
I get super excited because I can see that all of the hard work has
paid off. Many of the athletes receive first, second, and third place
which is absolutely amazing since they are competing against a
numerous amount of athletes. I have learned that the only way someone
can succeed is through an endless amount of hard work. These athletes
have inspired me to do just that in everything that I do.
This volunteer work has inspired me to help out other people, for example
I created a color run to raise money for the Breast Cancer Research
Foundation and I raised about $3,000. My activities are forward
looking because in the future I plan to become a doctor and help
people all over the world who do not get the medical assistance that
they need. In my opinion forward looking means being able to
experience what my future may hold. Since I want to help others in
the future, these activities allow me to experience the satisfaction
I would get when I'm older.