Name: Candice Myers
From: Lexington, Kentucky
Grade: Junior in High School
School: University of Kentucky
Votes: 0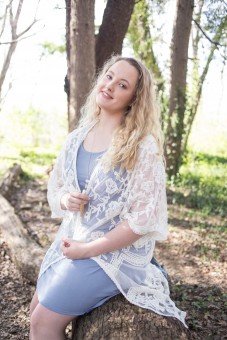 Candice
Myers
November
7th, 2017
Youth
Forward Scholarship Application
I have chosen to write about my volunteer work with my church, but more
specifically with the children's programs. I have been with this
church since I myself was a kid and I did nothing more than
participate in the fun after school activities and vacation bible
school. I began to love these programs and how they left me fulfilled
and happy, so when I became old enough I became a volunteer. I began
volunteering during the weekends with the daycare program while
children's parents were attending mass. The children range in age,
all the way from a few months old to kids. This can be quite
difficult thing to get over because every child is completely
different in their needs, but that's what makes the position so
utterly unique and fun. Creating a personalized experience for every
child allows me to express my creativity and childish side. I create
imaginary games for kids to play and they find the purest joy from
it. I get to make funny faces, laugh, and play with the babies and
watch them grow up in the nursery. It is so satisfying to hear the
kids say that they can't wait to see you again and then run off to
tell their parents all about how much fun you had together. While the
position brings such a positive and pure experience to my life, it's
not without the responsibilities. I basically become a temporary
parent during that short period of time; we have to make them food,
make sure they are clean, keep a careful eye on them, and of course
make sure they are having fun. It can definitely be challenging when
you try your hardest to help a child feel comfortable and they just
don't cooperate. It makes you have to change your whole tactic, and
it's more difficult than you may think. While there are difficult
moments, the rewards far outweigh those times. Through consistent
time spent with them, you leave an impression and you want that to be
someone that they can look up to at the end of the day.
I fully believe that the things I have learned through volunteering
have better prepared me for my career choice: marketing. Marketing is
built upon the relationships you create with others, and how you
foster those relationships can affect your goals. I have learned how
to deal with stubborn children but I have also learned how to
understand what someone else may be wanting and how learn to work
with that. This skill has become very valuable to me and my career
choice and it's from all the time I have spent as a volunteer. I hope
that one day the children I have met through my volunteer work will
one day come back and spend some time at the daycare because it can
completely change your life.