Name: Hanna Jin Yu Rizzolo
From: West Palm Beach, Florida
Grade: Senior in 2017-2018
School: Oxbridge Academy
Votes: 0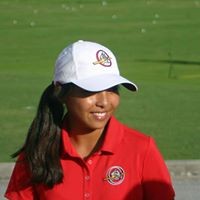 Area of volunteering-Junior Golf
There is no doubt in my mind that golf has shaped me into the person that I
am today, and I will describe how the game led me to become a
lifelong volunteer in junior golf. I fell in love with the game at
age 5. I became a part of a great golf-community at Okeeheelee Golf
Course , a municipal golf course in West Palm Bch, Fla. It is where I
began both my golf lessons and my life lessons. It is here that I
became involved with the LPGA Girls Golf Program, where I was taught
to practice the "five E's", they are: enrich, empower,
engage, and exercise. I learned life lessons: to give honor, to
develop integrity, to practice good sportmanship and to develop a
strong will and drive. The more I became involved with these
programs the more I began to notice positive changes in myself as a
person. I became an "E Club Leader", myself as soon as I
was able to at the age of 13. I have spent the last 4 summers
mentoring young golfers and trying to impart the practices that I
learned. I have logged over 400 vounteer hours. I have tried to, by
example, impart to them the importance of keeping a positive
attitude. A positive attitude isn't always easy to keep, especially
when many young golfers expect instant results and improvement in
their games overnight. They watched the way I would react when I hit
a bad shot, or when my opponents hit a good shot, both of which are
equally important in good sportmanship.I became aware that my
behavior was being watched and copied, I was their role model. This
was a great responsibility that I had to live up to each day. I
learned self-control and patience and the greatest accomplishment was
when I saw my kids exhibit some of these traits when they went out to
compete against other teams in the area. I remember feeling personal
pride when I overheard a parent say that "when the Okeeheelee
kids come to play at our course they always practice such good golf
etiquette, and are so well behaved."
I see my volunteer experiences as my way of giving back to the game and
being a small part in developing the character of some future
golfers, not just in their skill levels, but in their coping
mechanisms and ability to effectively overcome obstacles in their
lives. That is what I think of when I read the term forward looking.
I hope I helped to foster positivity in the kids I mentored, through
my positive attitude. I hoped this helped to make a difference in the
future of the game I love, in a world where athletics have led many
to be disrespectful to themselves and their teammates by their lack
of civility.
My career goal is to become involved in the golf industry. I plan to
major in buisness and or marketing, and be able to tie it into my
passion for the game. Everything I have learned and experienced
through playing and volunteering with golf has help me develop a
strong sense of personal responsibilty, a strong work ethic and
determination. I will bring these attributes to college where they
will continue to serve me well.