Name: Adaly Carrasco
From: San Antonio , TX
Grade: 10
School: Ronald Reagan High School
Votes: 0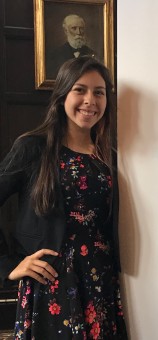 Instilling
an Impact
Volunteering
has made me value the influence I have had on people who are in their
worst of times. At my local hospital, I politely walk into patients'
rooms, knowing I must be the brightest being they see in their gloomy
day. At my local assisted living home, the same mentality brings
light to the dark thoughts that overwhelm the attendants. As their
life tragedies tumble out of their mouths and into my open ears, my
comforting attitude helps them find a sense of peace.
I
have volunteered 230 hours at my local hospital in the past two
years. During the summer, I assist in the Pre-OP department where I
facilitate the transportation of patients to and from the surgical
room. During the year, I work in the lobby, validating visitor passes
for security purposes. I will have volunteered 40 hours at my local
nursing home within the coming year. Here, I spark conversations with
elderly people, and I set up game stations for the attendants.
Amongst Bingo, UNO, and the 42 Dominoes game, the attendants enjoy
the presence of young volunteers. My service at the assisted living
home has made me realize how much elderly people appreciate the
company of young people. As a National Honor Society officer, I
coordinate events with both these locations as service hours to the
member body of 400.
My
biggest challenge is the emotional barriers I have to build. While I
do not get to connect with every patient, I understand that patients
are usually at the hospital for unfortunate reasons. When a family
enters the hospital, I do not know whether they are visiting a baby
who has just been born or a relative who has just passed away. With
this in mind, I am always polite to visitors and patients for I know
that they are fighting their personal battles. At the nursing home,
most of the attendants do not receive any visitors, so I serve as a
trustworthy source to liberate their emotions that otherwise would be
confined. I keep distance from becoming emotionally connected for my
presence serves as a source of joy.
My
ability in comforting those in times of hardship morph my personality
into one that has led me to follow a career in the healthcare field.
These service projects push me forward by opening pathways towards my
life goal of becoming a surgeon. Through these experiences, I have
learned social skills and built my emotional stamina. I wish to
instill genuity in volunteers my age for I desire that they are
grateful for the spark of light they ignite within hospital patients
and nursing home attendants. In thirty years, I know for a fact that
my service has made a difference. Everyday that I volunteer, a
different person tells me of the joyful impact I am making in the
lives of those I volunteer for. This impact will continue to push my
dedication to community service forward.