Name: Gabrielle Rhoads
From: Bethlehem, PA
Grade: 11
School: Lehigh Valley Charter High School for the Arts
Votes: 84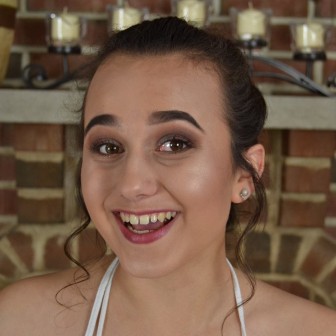 The organization with which I have spent most of my high school career has been part
of my life, and my family's life, more much longer than these last
four years. My grandmother began working at the Civic Theatre of
Allentown as part of the youth theatre in the 1960's, yet probably
never imagined how far beyond herself her dedication would permeate.
I first got involved as a student the summer after 4th grade. I hated
it. After my first day of class, I told her I would never go back.
Eight years later, my grandmother, myself, and my students find this anecdote hilarious.
Since my freshman year of high school, I have recorded over 450 hours
of service here as a teacher's assistant. I transitioned from
student to teacher when I was 14 years old, and spent numerous
semesters assisting professional educators with their lessons. The
biggest challenge I faced in this setting was respect. Not from the
teachers, but rather from my students. In some cases, I was not more
than a few years older than them. This created a question, to them,
about how much I really knew about what I was teaching. I had to find
non-abrasive ways to show that I was knowledgeable in what I was
teaching as well as ways to shut down their disrespect without
disrespecting them. I never wanted to force my authority on them,
because they would only learn to resent it more. I found ways to show
them to respect my authority by promoting mutual respect. Once they
finally learned to treat me as I treated them, the true
transformation began.
Throughout my years teaching at the Civic Theatre, I have had the pleasure of getting
students year after year. I've seen them grow as people and as
actors. One of the most notable cases of this was a boy named Zayn.
He barely talked, so much so that other students thought he was mute.
He disliked participating. An acting class was his biggest
nightmare. It took several semesters for him to open up and become
confident in himself, but once he did, there was no going back. One
of the last memories I have of him performing was at an
end-of-semester showcase, where he performed a original scene about a
safari gone wrong. He played the tour guide, and we gave him a
megaphone, which, though simple, as a large step. He was not yet loud
enough on his own to be heard in the back of the theater, but he was
allowing us to help him find a way to do it anyways. He was allowing
others to hear him.
From this position, I've learned how to create mutual respect, how to control my
frustration with others, and how seemingly insignificant things can
mean the world. Though I am not pursuing theatre in college, these
experiences have taught me many universal lessons. By volunteering at
The Civic Theatre, or any other organization, I hope to make a
positive impact on the live of others. This can be bolstering their
confidence of children, or donating money and necessities to those in
need. There are so many ways to positively affect someone. To think
that what you have done in the past is enough, or the what you will
do in the future is inconsequential only deprives someone of your
positive change you may bring to them.