Name: Antonia Spyridon Papadimas
From: Lutherville-Timonium, Maryland
Grade: Sophomore
School: Dulaney High School
Votes: 0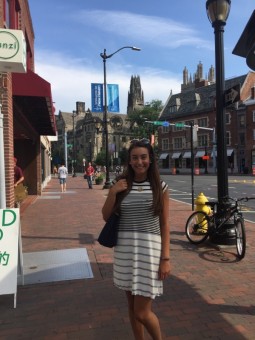 Antonia Papadimas
Youth Forward Scholarship Essay
It is time to make a change
As Jacob Riis said, "one half of the world does not know how the
other half lives". This statement may have been the missing link
to making our world a better place. Thus, I got encouraged to advance
my personal effort of not only transforming the lives of people who
are in need but my community as a whole, through my commitment and
loyalty to Key Club.
With my shy and introvert-like personality starting high school was truly
a struggle. However, everything changed once I joined Key Club. While
helping my community, I transformed my personality from being
secluded to sociable, confident, and outgoing due to the unique life
experiences I faced.
While being a Key Club member for four years, I never hesitate to sign up
for events to help my community and build strong, long-lasting
friendships with other passionate volunteers. While volunteering at
events such as tree planting, Salvation Army bell ringing, car
washing, and many more, there is a specific event that holds a
special place in my heart.
This event is volunteering at various soup kitchens; I share my desire to
serve and virtue to care for others with others and at the same time
show how everyone needs to have access to the same goods and services
regardless of their status. Opening the doors of the facility and
welcoming all the guests in need for a fresh meal and showing them
that I am there to make their lives just a tiny bit better is truly
satisfying and rewarding to me.
Every time I volunteer at a soup kitchen or a similar event, I am welcomed
into a world that because I am fortunate enough, is not familiar to
me; yet, it is the normal life for many underprivileged families
living in poverty and danger.
Key Club showed me "how the other half lives", by introducing me
to the daily societal problems and issues people are going through.
And although this is eye-opening it is also something extremely
difficult to cope with. My job as a volunteer is to show the world
how we need to work alongside those whose daily realities are shaped by
hardships. Also, it is essential to not create any divides in the
process and become more appreciative of what we have because not everyone is as
fortunate as us.
Volunteering while being a member of Key Club showed me how I want to continue
volunteering while making a difference beyond my local community. My
future aspiration is to give individuals the chance to equal
opportunities by becoming a member of the "doctors without borders"
organization and help those who do not have access to healthcare
services.

            Key club taught me that through volunteering, we can make the world a
better place, and this is possible to happen if we come together as a
nation and act quickly because volunteerism is one of the driving
forces for creating change and making a positive impact in the
community and society at large.