Name: Bradley Eberhardt
From: MASSILLON, OH
Grade: bradley.eberhardt@cchsweb.com
School: bradley.eberhardt@cchsweb.com
Votes: 0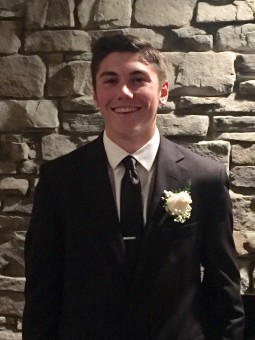 Albert
Einstein once said, "Be a voice not an echo." Many young people
today worry about being liked by others, but are not concerned about
how they treat them. No one dares to go against a group for fear that
they will become the next victim. We need more leaders in the world
to be the voice and not hide behind the echo of others' actions.
We need some people to stand up for what they believe and know
is right. This is easier said than done, but the leaders you look up
to are living by these principles every day. Being a leader is both
rewarding and challenging, but the end result is what leaders
consider the most important. Leadership
is not only through words, but actions. Leadership is a
characteristic that most people wish they possessed. With leadership
comes great responsibility and it takes special people to fill these
roles. I have had the opportunity to hold many positions of
leadership throughout my high school career. I have been fortunate
enough to be a captain for my soccer team. Throughout the year, I
made sure to check on all of the underclassmen. I tried to
incorporate them into everything that the team did. We always went to
a restaurant after practice as a team bonding experience. It was
important to me that everybody felt like they were an integral part
of the team. If there was someone that was down, I tried to lift them
up, encourage them, and let them know that everything would be okay.
I not only helped my high school soccer team, but reached out to
younger teams, helped to coach them, and tried to set a good example
for them. Leadership in sports is important, but also it is essential
to have leadership in the community. In order to help my community, I
was a part of Crusaders for the Community. This organization helped
me reach out to the community and make an impact for those in need.
Every month I participated in service projects that helped to improve
the lives of the less fortunate in our community. I have mostly
helped the elderly in nursing homes. They always need help and it is
a great thing to put a smile on someone's face. My responsibilities
included helping serve meals, clean, and take residents to and from
their rooms. The most satisfaction I have gotten from volunteering is
making a person's day. It is always hard to leave because you wish
you could give more of your time. I have learned that you should
always count your blessings. So
be a leader and not a follower; have a voice not an echo.