Name: Peter Maina
From: Castro Valley, California
Grade: Junior
School: Castro Valley High School
Votes: 0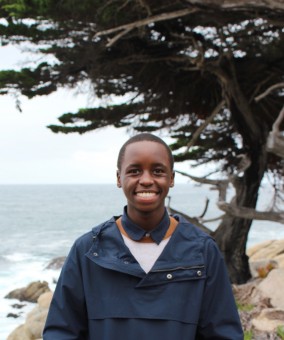 The rush of joy I felt stepping into Las Chavaladas each day was indescribable,
yet vivid. Splattered with paint in the midst of screaming, gleeful
children I unknowingly became the leader I am today.  
This past summer I traveled to Leon, Nicaragua, courtesy of a program called
Global Glimpse, with a delegation comprising of twenty-five other
students from the San Francisco Bay Area. The largest aspect of the
trip, the Community Action Project (CAP), was very impactful to me.
For the CAP, we partnered with Las Chavaladas, a rehabilitation
shelter housing young boys facing drug addiction and those who've
experienced difficult domestic situations such as abuse. Throughout
the trip, we painted a multitude of murals; all of which would give
the young boys a nicer environment in which to play, learn, and grow.

I quickly assumed the title "budget manager" admitting my precision with
numbers, secretly relieved the role wouldn't demand an iron fist,
the complete opposite of my leadership nature. Surprisingly, my
position required assertiveness, a skill I had not fully mastered but
one that would slowly consume me. I soon grew out of my shell,
organizing shopping committees to buy or replenish materials and
setting strict limitations on the spending budget while updating the
delegation on our financial status daily. In the midst of many strong
personalities within the group, my expanding boldness allowed for an
effective compromise when multiple issues over planning arose. That,
in addition to the emerging mentorship with the young boys, would
build the confidence I initially lacked.
As the week progressed I noticed that the boys would follow me, imitating my
words and giggling at my American accent while speaking Spanish. I
realized how their attentiveness, eyes wide as I spoke, quelled my
biggest fear: the fear of being assertive. Their admiration
transformed me into the expressive, self-assured person I am today. I
was to them an older brother as they were to me a beacon of grit, all
of us progressing in each other's presence.
Through this opportunity and amongst my other volunteer endeavors, I hope to
shine a light on the forgotten and overlooked. As a hopeful Global
Health major, I want to be set free from the normalization of global
issues that don't affect nor seem to matter to most American
people. I strive to influence the lives of the unknown and to
illuminate the hidden corner of suffering the first world seems blind
to. Having left a permanent impact on Las Chavaladas, my work
embodied the importance of forward-looking sustainability. Unlike a
monetary donation, the murals and paintings we made will last a
lifetime for the boys seeking rehabilitation there. If I were to
visit Las Chavaladas within the next few decades, I expect to see a
new group of boys experiencing the same transformation as the ones
before them. Their bright smiles and energy would cast a shadow on
the colorful murals painted by us. Unknowingly nurtured by our
efforts, the boys would thrive in their radiant environment.