Name: Sara R VanDyke
From: Linwood, New Jersey
Grade: 11th
School: Mainland Regional HS
Votes: 63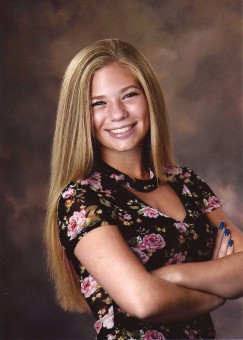 I began my cheerleading career in first grade and am currently
finishing that career as we speak. While maturing through my
cheerleading career my teammates and coaches noticed how I handled
sensitive situations and started to look to me as a natural leader.
Along the way I realized that respect is truly earned and not
something you can demand. I earned the role of captain on both my
secondary and high school teams. I had also become the mom of the
group because teenage girls have much more going on than just sports
and they needed a confidant, psychologist and mentor and those were
also roles I took on.
When I started high school, I was thinking how much cheerleading had
taught me and I wanted to give something back so I volunteered as a
Junior Coach at my old Elementary School. I did this for the past 4
years. I was with the team 5 months out of the year for about 8 hours
a week. It was challenging trying to find time with my schoolwork and
own team responsibilities, but I do not regret doing it for one
moment. I can say this has allowed me to take the lessons I learned
and am still learning and pass them on to others. Young girls need to
learn how to control their emotions. One of the most important
lessons I wanted to pass on is how to be compassionate when you
achieved something that one or more of your friends did not. You need
to find a way to celebrate your successes with just enough excitement
that you will not offend anyone else while also comforting others in
their time of sadness. I wanted to impress upon the girls not to
expect more from people than you are willing to give and working just
as hard if not harder than your teammates will earn you respect.
Always be on time, dress properly, and be prepared for the day, don't
be a distraction and waste valuable time. Whether it is warm-ups or
stretches, learning something new or just practicing skills already
learned, give 100%. No one is ever perfect, show you are willing to
do whatever it takes to be YOUR personal best. Everyone's best is
different and I wanted to make sure that each and every girl realized
that they only need to compare themselves to themselves and be better
than they were the day before. I wanted them to take this lesson into
the real world because it is very relevant in all aspects of life.
Volunteering comes with many responsibilities, I have to consider my behaviors on
a daily basis. I know I have so many people looking to me for what is
an appropriate reaction in many different situations and I always
want to portray myself in a positive light.

            The biggest reward I receive from volunteering is seeing my girls take
the lessons I have taught them and use them to achieve success.