Name: Savanna Swanson
From: Naperville, Illinois
Grade: Sophmore/ 10th
School: Naperville North High School
Votes: 0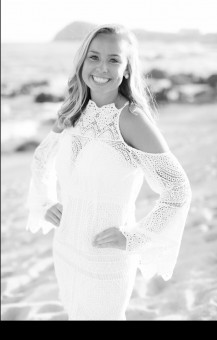 Youth Forward
Scholarship
Savanna Swanson
November 30, 2017
Life
is good, especially when you volunteer!
People often regard volunteering as giving back to others and the
community. For me, volunteering has helped sculpt the type of person
I am today. I have volunteered for many different organizations,
specifically contributing more than 200 volunteer hours between two
organizations, National Charity League (NCL) and Edward-Elmhurst
Hospital.
NCL is a mother-daughter charity league with chapters throughout the
United States. In my Naperville, IL chapter we volunteer with many
organizations. A few examples are homeless shelters, fundraising
walks for autism, cancer and Down syndrome and Meals on Wheels
(delivering food to the elderly) among many others. I have been with
NCL for four years since joining as a freshman and I will continue
until I graduate high school. Upon graduating, I will have
volunteered more than 100 hours of service with NCL.
I believe the most important responsibilities in volunteering are
being on time, being respectful and just being the best I can be
while always wearing a smile. If you're willing to take on any
roll or task that needs to be completed while volunteering using
these attributes, I believe you will be a successful volunteer.
What can be challenging as a volunteer is always giving 100% effort.
Sometimes you may not want to do the task at hand, you're tired or
you have school responsibilities on your mind. When I find myself
facing this challenge, I pause, recognize the emotion and then push
through knowing I am here to help others. The satisfaction felt when
completing volunteer work makes this challenge something that I can
always overcome.
The smallest things in life can make a huge difference. When I give
back to the community and focus on the people I am helping, I realize
how lucky I am as a person to have the gift of volunteering. When
I'm working at a homeless shelter cooking meals, folding laundry
or cleaning cots, the appreciation the residents give and show is
priceless. While volunteering at cancer walks, the smiles from
happiness these sick children show is so satisfying and one of the
main reasons I volunteer. Life gives people amazing experiences and
life lessons and some of the best come through volunteering.
As a volunteer you have to wear many different hats to successfully
connect with and help each person you interact with. From my
experiences with the many different aspects and requirements that
homeless, injured, elderly and special needs people have, this
exposure has been critical in guiding me to the profession I am going
to study and pursue, Occupational Therapy. Forward looking into my
future, I want to help people with everyday activities that they once
could easily do themselves but now are limited because of some life
changing event.
A change I wish to seek in the world via my volunteer activities is
enabling more younger kids and teenagers to participate in
volunteering both inside and outside of school so they have the
chance to learn and grow from volunteering experience as I did.
In the future, I would think that the volunteer activities I
participated in would have made a difference. You make a difference
in the moment volunteering, but if you were to come back in ten,
twenty or thirty years, the situation would be different. Yes, you
made a difference at one point in time, but in the long run over a
span of many years or decades, the organization and the volunteering
service could not still be running and functioning successfully if
everybody as an individual didn't have the vision themselves of
"making a difference" as a volunteer.
Volunteering is a way of life that I adapted to once I had the
opportunity to participate, which was my freshman year of high
school, four years ago. I would love to be honored for this
scholarship, as volunteering has helped sculpt and guide me to
becoming the person I am today and the person I will be in the future
with my career as an Occupational Therapist. I believe every
individual should try to volunteer in their life, because the
experience and education you receive through so many perspectives is
so valuable and eye opening. It's unforgettable! Life is good,
especially when you volunteer!!