Name: Caleb Mathura
From: Verona , Wisconsin
Grade: 10
School: Verona Area High School
Votes: 0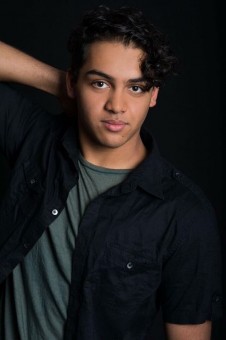 Caleb
Mathura
(608)
446-4160
Lifting
Others Through Performing Arts
From
Flamenco dancing in front of the television screen, to re-enacting
the "Mambo" from West Side Story at the breakfast table, I
submerged myself in all things performing arts as long ago as I can
remember. As my roots in theater deepened, I developed an overall
passion for life and its possibilities, as well as a growing
appreciation for performers who inspired me through art well done.
The performing arts have the power to reshape perspectives and
greatly inspire audiences, something I plan to do for the rest of my
life through educational outreach volunteer work and performances.
As
an actor, I firmly believe that it is my duty to inspire our next
generation of actors by giving them the thrill of watching great
theater, because without such efforts, my passion for theater would
have stalled rather than blossomed as a child. This year, I had the
opportunity to work with the Children's Theater of Madison as an
Educational Outreach Performer. In the last six months, over the
course of two seasons (each two-week session ranging from 3 to 6
hours per weekday), I performed for over 6,000 elementary school
students from across Wisconsin. Maintaining my stamina to make every
performance my very best was exhausting, and although I wasn't paid
for my work, the incomparable feeling of seeing wide-eyed, gleeful
youngsters, fully submerge themselves in a story was exhilarating and
emotionally fulfilling.
My
dedication to furthering the reach of the Arts through educational
outlets has left its stamp on my own heart. I see enhancing the
effects of the Arts as a most worthy endeavor in roles I have now and
others I will have throughout my life. Such a mindset seems
consistent with my concept of "forward-thinking," as the practice
of my craft may be momentary, concluding when I leave the stage, but
hopefully its message is imprinted on the minds of the youth in
attendance. It is evident now in my efforts as the Fine Arts
Committee Leader in my school's National Honor Society. Through
many hours spent outside of school with my committee, we have
developed opportunities throughout the school year to showcase our
local, student made-artwork. Student art competitions, art galleries,
talent showcases and live national anthems now abound. We hope that a
broad appreciation within the student body will follow.
I
plan to spend the next four years in college as a Musical Theatre
major, hoping to improve my skill set so I can delight, provoke and
even inspire future generations through live theater. I have walked
the hallways of my school and heard some students mock the efforts of
the Arts, sometimes berating individuals as outcasts. Through efforts
of future educators like myself to influence and inform young
audiences, I hope one day to see academic and community environments
that fully embrace the Arts' limitless ability to hone skills,
strengthen shared values and even deepen self awareness.