Name: R'keria Davis
From: Lakeland, FL
Grade: 9
School: Harrison School For the Arts
Votes: 0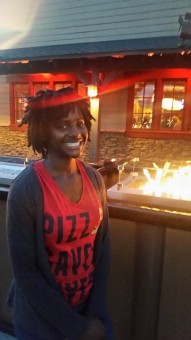 There are some hours I wish could last forever. In July of 2017, I began
volunteering at the SPCA, an animal shelter that has brought me true
happiness by allowing me to bring my love to animals while dancing to
their playlist of eighties music. Every Saturday, four hours of my
day are spent in a room for small dogs and puppies, where I assist
potential adopters with questions about dogs while walking, feeding,
petting them, and maintaining the overall cleanliness of the premise.
Although the dogs only see me once a week, I try to develop a
relationship with each one. Consequently, this can lead to
attachment. I remember telling my mom, "I'm so happy when a dog
gets adopted, but it sucks when they have to go and I've developed
a relationship with them." And as a response, my mother produced a
statement that verbalizes my favorite aspect of volunteering there:
"Your love gets spread around."
This means that when I come in each week, four hours is enough for me to
change a dog's life – and their future owner's – forever. The
short window of time enables me to get to know the dogs through
talking to them, feeding, walking, and making their cages more
comfortable. Not only do I show my love to the dogs, but they show
their love to me by trusting me. The most challenging aspect of my
volunteering position is when I have to see a dog go, but then I am
reminded of this: I am giving a dog a family, and giving an owner a
lifetime companion with my love attached.
Knowing my words are capable of providing homes, I always look forward to
talking to every person who is willing to love a dog. It is amazing
to think that my passion for helping people and animals, the reason
for my service, will change a family's future. Although I do not
foresee myself working at an animal shelter long-term, I will
continue to utilize the skills I've gained – communication,
compassion, and empathy – in the field of publishing. Of all the
joys I have experienced through volunteering at the SPCA, I receive
the most satisfaction when I am able to participate in the process of
bringing an animal's affection to a future owner. My activities may
not change the world at large, but within each person's soul is a
world of their own, and I can make that world bigger through my
service. To me, "forward looking" is affecting the future for
good, and these activities are "forward-looking" because I can
expand a person's world.
If I were to return to the SPCA in the future, I believe that I would
have made a difference by seeing many dogs graduate from their cages
into a loving family. Perhaps one day I will come across a dog I took
care of at the shelter, and I will think of the love I transferred.