Name: Allison Rogers
From: Elkton, MD
Grade: 12
School: Elkton High School
Votes: 0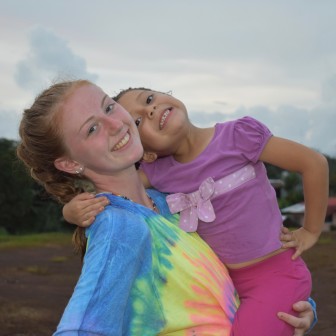 Love
Without Borders
My
name is Allison Rogers and I am a senior at Elkton High School.
Living in a small town with a lot of poverty, I have served in
homeless shelters and food kitchens since an early age. Seeing so
many people in need has made me realize that service is one of the
most important parts of my life. Growing up in church, I have heard
many people share how they have participated in mission all over the
world, and this soon became one of my goals. When I went to my best
friend's church one morning, she asked if I wanted to go on a Costa
Rica mission trip with her. I knew in that moment that it was an
opportunity I could not pass up.
On
August 1st, 2017 I arrived in Rio Cuarto, a small impoverished
community north of San Jose, Costa Rica. I spent eleven days helping
to finish construction of a daycare center, build a retaining wall
for a parking lot, paint ceiling beams and provide Vacation Bible
School for the children. The daycare center that I helped to build
will provide three hot meals a day to children in the area. During
Vacation Bible School, it was so rewarding to watch their faces light
up when we would sing, dance, and play with them. They were so
thankful for the toys and soccer balls that we brought, which are
things that people in the United States take for granted. One of my
favorite parts about the trip was the community members getting
involved with the work. It was amazing to see small children in an
assembly line passing materials to the adults. Even though there was
a language barrier, it was not hard to tell how much love and
appreciation the people in Rio Cuarto had for us. This mission was
unlike any other because of the relationship we formed with the
community. Even
though the people have so little, they live their life to the
fullest. I learned that "Pura Vida," which translates to "pure
life," is the law of the land in Costa Rica. The residents are
stress free, happy, and grateful for the life they have. Not
only did I serve them, but they served me with their love,
hospitality and positive outlook on life.
This
experience not only positively impacted the lives of hundreds of
people in Costa Rica, but also changed my life significantly. I
learned that I should be thankful for everything that I have because
there are many people all over the world who are less fortunate. It
was eye-opening to first hand experience the culture in a third-world
country. With an intended major in architecture, I aspire to use the
skills that I learn to help others. There are many people who are in
need, and I want to make a positive impact on the world. This is what
"forward looking" means to me. I hope to continue to serve across
borders for the rest of my life.