Name: Caleb Groff
From: Wahoo, Nebraska
Grade: 10
School: Wahoo High School
Votes: 12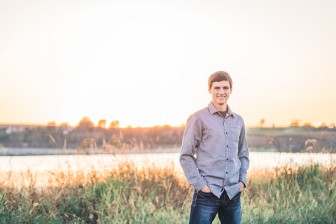 Helping the Homeless
My name is Caleb Groff. You might recognize me from the streets of Detroit, the
churches in Kansas City, or maybe in my hometown of Wahoo, Nebraska.
Wherever you hear my name though, one thing is clear: I love helping
others. Whether it be through tutoring my peers in a free ACT prep
class I created, or picking up trash at the local fairgrounds, it
gives me great pride to be of service to others.
I volunteer with the Bethlehem Lutheran Youth Group in my hometown. This group has given
me the opportunity to volunteer in many ways. Locally, I have learned
just how important it is to give back. I find ways of giving back at
the church, from recording the church service every Sunday to send to
the nursing home, to helping my mom, the secretary, with whatever she
needs to ensure that the church stays clean and in good shape. As a
group, we do litter cleanup and encourage our community to join us in
activities at our church. I believe that it is important to spread my
love of volunteerism.
My favorite volunteering experience was in Detroit. Upon first arrival, I was in
a culture shock. Nothing had prepared me for what Detroit would be
like. There was trash and graffiti everywhere, with many abandoned
homes and homeless people lining the streets. While cleaning up trash
in the local neighborhood, our group passed by a small elementary
school, and I took a break to spend time with the kids there. We
played football, and they told me stories about their lives and
growing up together as neighbors. That moment stuck with me more than
anything else. I realized that volunteering isn't about just doing
menial work- it is about making meaningful connections with those who
need it most.
To define forward-looking is to define what I see in my future. I love
volunteering, and I never plan to stop. There's a famous Chinese
proverb that accurately sums up my feelings toward volunteering: "The
best time to plant a tree was 20 years ago. The second best time is
now." Volunteering is about making a positive difference in another
person's life, no matter how menial. The sooner I am able to reach
out, the sooner I can help nourish a happier lifestyle for someone in
need.
I take a lot of joy in making a positive difference through volunteering. My commitment
to volunteerism has helped me in my home life, my schoolwork, and
even the connections I make each day. It brings me a lot of
satisfaction to make a positive difference in another person's
life. I am excited to reach out to hundreds more throughout the rest
of my life.