Name: Kaimana Idica
From: Honolulu, Hawaii
Grade: Grade Level in 2017/2018: Freshman in College
School: Hawaii Pacific University
Votes: 0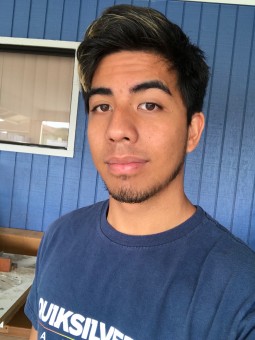 Malama 'Aina
Malama 'aina means to care for the land. As a child of Hawaiian decent I was brought up
being taught that I am a steward of the land and it's my kuleana
(responsibility) to care for it as our ancestors did long ago.
So, it was only natural for me to follow in the footsteps of my kupuna (elders) and
do volunteer work that focused on caring for the environment.
Over the course of three years I've logged 196 hours of community service. The work
varies from beach cleanups to educating the youth. I'd help out at
beach cleanups and zero waste stations. I passed out flyers to
educate the public and local restaurants about the detrimental
effects of single-use plastics. I've also helped with educating the
youth about caring for the environment.
My biggest challenge is encouraging the public to reduce their use of single-use plastics.
People see single-use plastics as a convenient product but it's
the #1 cause of marine debris. Refusing the use of products such as
plastic utensils, plastic straws and plastic bags can help to reduce
the amount of marine debris that's polluting our beaches and
affecting our marine life.
What gives me the most satisfaction is seeing the positive difference my efforts have
made on the environment and the people within it. Looking at a clean
beach is priceless. Watching students engage in ways they can help
the environment is priceless. It gives me fuel to keep doing what I
do.
I've learned that every effort matters no matter how big or small. There's no age
limit, everyone (young and old) can make a positive difference in
their community. But, most importantly I've learned that "I
matter".
I will always care for the environment and as I pursue to attain my Bachelor of Arts
Degree in Multimedia Cinematic Productions I plan to produce
environmental films that will help to educate how the people of the
world can "Malama 'Aina".
As I look towards the future I see my efforts to be "forward looking" because it's
teaching others how to better care for our planet and paving the way
for a brighter future. To me "forward looking" means to
visualize what you want for the future and taking the steps needed to
get there. Every step forward brings you one step closer to making
your vision a reality.
My hope is that through my efforts people will see how simple it is to Malama 'Aina
and the results will speak for itself.

There's no doubt in my mind that if I were to come back in ten,
twenty or thirty years from now
I will see the efforts of "Malama 'Aina" shining bright. The torch that my
kupuna passed on to me which I then passed on to the next generation
will still be burning bright. As long as the torch stays lit, the
efforts to Malama 'Aina will never extinguish.