Name: Thalia Valdes
From: Miami, FL
Grade: 10, Sophomore
School: MAST Academy
Votes: 13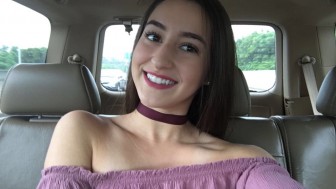 Thomas Paine once said, "The mind once enlightened cannot become dark."
That is why I have started a program called MediaMatters at
Auburndale Elementary. Here, I work with children aged 7 to 11,
striving to empower them to recognize the value of their own words,
of expressing their own opinions, of believing that there is power in
their words. MediaMatters meets twice a month, and is centered around
teaching the significance of media and communicational skills at an early age
while improving writing skills, reinforcing ethics, and using curiosity and creativity as a drive.
Although the bulk of my community service was dedicated to children
development- I have more than 1000+ hours at Shake-A-Leg Miami- it is
a different, at times difficult, experience to teach them. To keep
their interest, I developed various lesson plans meant to engage
them. This meant taking online classes, reviewing what I learned in
Journalism and English, recruiting volunteers, and reaching out to
universities and newspaper advisors. It also meant stacks of papers
with activities such as "Build your own camera" and "You are a
newscaster," and a fieldtrip to my school to witness the process of
producing a paper.

            My involvement in the school's newspaper, The Beacon, has deepened my appreciation for words and has
given me a medium to share them with others as well. My passion has
always been to communicate with others, it has driven me to learn 3
languages and aspire to learn one more, something I plan to expand
upon during my journey as a future graduate. I believe that in such a
controversial time, it is important to be socially aware and have
knowledge of the importance of media, not just what it does, but how
to use it responsibly. Through MediaMatters, the children are given
the same medium I had.
I realize often, we humans fail to use that power because we are not
confident thatour words matter or that what we have to say will be received by others.
However, I hope that this program has made them socially aware, given
them knowledge they will continue to expand in their own journey, and
given them the courage to honor their words.
Since establishing this program in the summer of 2017, I have had the honor
to share my passion with the younger generation. After countless
hours spent on meetings, briefings, paperwork, and drives, what gives
me the most satisfaction is knowing I am providing something
timeless.
I am a strong believer that we are all interconnected in some way or
another, and in turn, our actions and words produce a rippling
effect. For that reason, I do not believe I have only impacted the
members of the programs, but those around them.
My ultimate goal is to establish MediaMatters as a non-profit and make
it accessible to other schools and counties to create an intellectual
and respectful society where diversity in people and opinions is
celebrated.