Name: Brandi Eischeid
From: Carroll, IA
Grade: 11
School: Kuemper Catholic High School
Votes: 0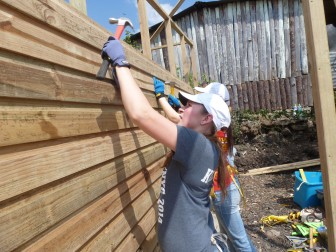 Brandi Eischeid
Youth forward
essay
All my life I
have been an active volunteer in my community but one of the most
important experiences in my life has been when I went to Honduras
last spring. I was very excited to go and thought it would be a great
experience but was shocked how it changed my perspective on people
and society. I enthusiastically told everyone about the upcoming trip
but there were often times when I felt very nervous. Honduras is very
poor and it can be a dangerous place but that is also what motivated
me to go, they clearly needed the most help. Our Mission Honduras
group spend 6 months planning and fundraising so that we would have
the funds to build 2 houses and bring needed supplies for our 10 day
trip.
Building the
houses in Honduras was physically hard work and teaching at the
school was fun but the home visits ending up being the most
impactful. The Honduran people had so little and lived in terrible
conditions but were still so kind and grateful. There was one
experience in particular that will stay with me forever and is
shaping my career. We were at a home visit with a mother who had
three children so I told her that I was part of three children in my
family, thinking we had that in common. The mother than explained
that she would have 4 children but her last baby died because they
had no money and could not get medical care. Her eyes were so sad and
I felt so helpless. I have learned in my current job as a CNA
(Certified Nursing Assistant) to treat everyone with dignity and
respect at every stage of life. This experience in Honduras taught me
that the same respect needs to be given to all people regardless of
income or social status.

I plan to go back to Honduras but next time I want to have the skills
to help people like this mother and her baby. To accomplish this, I
will first get my Bachelor's degree in Nursing at Morningside
College and then a Master of Science in Nursing as a Family Primary
Care Nurse Practitioner. I am excited to have this direction for my
future!