Name: Kyleigh Rogers
From: Oswego, Illinois
Grade: 10
School: Oswego East High School
Votes: 100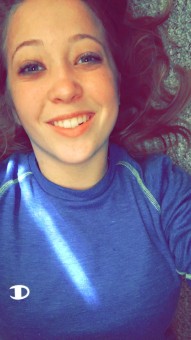 Kyleigh Rogers
Volunteer Essay
After five years of playing football, for Oswego Youth Tackle Football
Organization, I found a passion for the game and wanted to share that
with other like-minded youth. Over the past four years, I have had
the opportunity to coach children between the ages of six to ten
about football. Over the years, I have volunteered five to six days a
week between the months of July and October and have accumulated over
600 volunteer hours.
My responsibilities as a coach were to teach the kids how to play the
game of football. I taught and worked with them on tackling,
catching, passing, kicking, blocking, including everything offense,
defense and special teams related. Each year I worked with a hand
full of parents, who also volunteered to coach their child's team.
All four years I have worked with special teams; that includes
kickoff, kick return, punting, punt return, and field goal. During
kickoff I taught the kids to stay in their lane as they ran down the
field and get the ball. Then I would show and explain to the kicker
how to properly kick the ball. For my kick returners, I explained
that at all, they need to have their hands ready for the ball. I
would tell the kids in the back of the pack, "When you go to return
the ball, you have to follow your blockers". My punt return was the
same thing, follow your blockers. When working on our field goals, I
had to remind the kicker how to kick and remind him to stay calm,
take a deep breath, keep your head down and do the best you can.
The biggest challenge as a volunteer, was teaching the kids how the game
works and how to play it properly so they didn't get hurt. As the
season went on, the challenges got easier. The most satisfying thing
throughout each season is the bond that I have created with these
kids. These kids look up to me. They see my commitment to them and
know that I am always there for them. They become comfortable in
sharing their stories and are always excited to share their
accomplishments with me. That being said, they have helped to keep
myself accountable in making sure that I excel personally and set a
great example of what a leader is. Being able to watch the kids grow
on and off the field, throughout the season, is beyond satisfactory.
Throughout my four years, of being a volunteer coach, I have learned that I have
a greater passion for the game. I've learned that I don't just
have one family; I have a team of families. I love pouring my passion
of the game into educating today's youth and hope that someday,
they will look back and remember these years. The biggest take away,
is that the kids have accepted me as their coach and could care less
that I am a girl.