Name: Elise Houk
From: Indianapolis, Indiana
Grade: High school freshmen (Currently a high school junior)
School: Perry Meridian High School
Votes: 0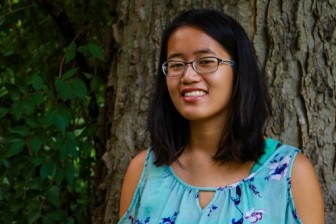 More
Than Middle School Students
After
my church's youth group came back from a summer Christian
conference, I felt God calling me to service at my church, but I was
not sure where. After praying, and asking around my church, I finally
found my place working with the middle school youth ministry as a
technical director and a small group leader. For this service, I get
to volunteer for a couple of hours per week. Additionally, my
responsibilities include running the technology behind the sermons,
and I help lead a small group of seventh-grade girls after the
sermon.
My
biggest challenge in these two activities is figuring out how to help
lead the small group. While technology, most of the time, does what
is commanded, there is not always a straightforward answer to every
question, nor is there a script of what to say that will help a
real-life problem. Especially with the fact that what I say can
impact a real person's life can become a hard decision of what to
say. However, with these struggles, there is much satisfaction in my
volunteering. The most satisfactory part of this is being able to
bond with the girls in my small group, and being able to fill a role
in the ministry that I already had a past passion for through my
school. Through this experience, I have learned to be a better role
model to middle school students, and I have learned how to operate
new computer software programs.
With
everything I have learned through this volunteer opportunity, it has
helped shape my careers goals because, it affirmed my passion, and
desire to work with technology, and it helps build up my leadership
skills so that I can build up to a management position when I become
employed. Additionally with forwarding thinking, outside of my
personal goals, this volunteer opportunity is forward thinking for a
greater cause. This is because, my given time encourages and aids
middle school girls to build on their faith in God, help them through
hard times, and the technology aspect allows me to help the pastor,
and train others who are interested. This aligns my definition of
forwarding thinking because it lets me dedicate my time to help keep
younger generations with a firm faith in God, so that they may
continue to pass it along. With this, I want to keep the gospel
firmly planted into the younger generations to keep, because of how I
have seen it slowly dying in this generation.
Even
though this seems like a small contribution, if I came back years
later, I would say that my volunteering would have made a difference,
because the pastor has been so recently put into the ministry when I
started, and I have helped the pastor to figure out how to make the
transition between technicians, and how to improve the middle school
ministry to make it better for future generations of middle school
students.