Name: Brayden Riley Hemmeter
From: San Angelo, Texas
Grade: Sophomore
School: Texas Leadership Charter Academy
Votes: 29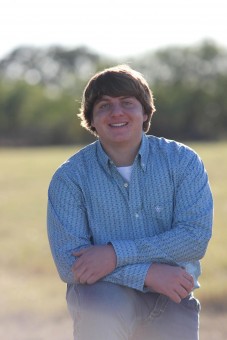 Music
can literally become the heartbeat of a community, I have actually
witnessed this firsthand. Through my volunteerism at the Green Apple
Art Center in Eden, Texas, I have been able to see my small town
through different eyes. Before the Green Apple started, we didn't
have much to do in Eden (population 1,200) and I rarely saw people
interacting socially. We have one concert a month for nine months out
of the year and I have volunteered at almost every one since 2013.
Rather than just screen timing, community members come together and
socialize at the Green Apple concerts.
I
have learned how important it is to contribute and be actively
involved to make positive things happen. In a small town like Eden,
it is even more evident. I directly impact the community in many ways
through my service at the Green Apple Art Center. I am involved in
every aspect of putting on the shows from the set-up of chairs,
lights, sound check, to the food and drink service for the attendees.
When the concert concludes, I help clean up trash, restack chairs,
sell at the merchandise table, and assist the band and sound crew
load out. I have been given a lot of responsibility in this
organization and feel proud that I can be part of something that
affects my town in such a positive way.

My
volunteerism helps keep the arts alive in my rural community which is
very important to me. I enjoy music of all kinds and in my future
career as a doctor I know that I will continue to be involved in the
arts. I believe that the Green Apple Music Series has been very
forward looking, it has brought something unique and sustainable to
our town. Through my volunteerism I hope to make a difference in the
quality of life for the people of my small town. I hope that the
music we are able to bring will impact the lives of old and young
people alike and perhaps inspire someone to learn to play music or
try songwriting or poetry. Music and art are important cultural
activities and some of our residents wouldn't have the opportunity
to experience it were it not for the concerts. Funding for the arts
has been cut in our schools, so rural art centers like ours may be
the only place kids can hear and experience music of all types. I
know that when I look back on my volunteering at the Green Apple, I
will know that I made a difference. It has, in five years, already
changed the fabric of our community and brought people closer
together. Music has brought life back into our little town.