Name: Caleb Ramirez
From: Fayetteville , GA
Grade: Sophomore
School: Starr's Mill High School
Votes: 0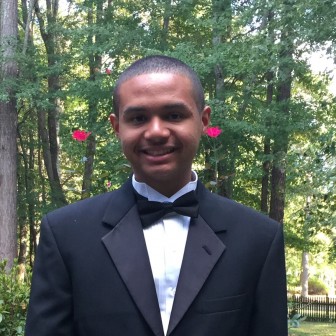 Caleb
Ramirez
calram21@gmail.com
Starr's
Mill High School, Fayetteville, GA
2
My Commitment to Volunteerism
Volunteering my time and resources is a privilege and commitment as I
serve others. Volunteering has taught me the value of selfless
service in helping people as well as building camaraderie with other
volunteers. I am motivated to volunteer because I relish the positive
impact I have at my school and community.
As
a member of The National Beta Club at Starr's Mill High School, I
assist in planning and organizing school events such as high school
dances and classroom remodeling. In addition, my classmates and I
served as escorts for Georgia's Governor's Honors Program as well
as collected food items for the community food bank drive.
My
volunteer service experience also extends to my community in Fayette
County and the neighboring community of Coweta County. In Fayette
County, I have aided in the position of assistant camp counselor at
various Vacation Bible Schools and Music Camps throughout the summer
months. Volunteering at Flat Creek Baptist and United Methodist
Churches brings an indescribable joy to my heart as I minister and
share God's Word and the love of Christ to His kids. This previous
summer, I volunteered as a team helper at the annual Winshape Summer
Camp at Heritage Christian Church. I had a wonderful time guiding the
children through their activities and mentoring them on what it means
to have a personal relationship with Christ. As I mentioned in my
introductory paragraph, volunteering has given me the opportunity to
engage and fellowship with other volunteers with a common faith in
Christ. At the Midwest Food Bank, time is set aside for prayer and
bible study prior to supply loadouts. I feel a sense of togetherness
as we study the Bible and worship God through serving the poor and
less fortunate. I assemble and pack food supplies into containers,
which are then loaded onto vehicles for delivery across the United
States. The recent storm aftermath of hurricanes Harvey
My Commitment to Volunteerism (Cont'd)
and Irma brought us
in at moment's notice to prepare and loadout disaster relief
supplies to the states of Texas and Florida. Responding to this alert
gave me the opportunity to put people's needs in front of mine in a
time of crisis.
Furthermore,
in Coweta County, I enjoy performing as a Pianist and Bass Vocalist
for patients at the Cambridge House of Enrichment Adult Daycare. As I
play Classical compositions and sing vocal solos, I see the impact of
the sounds of music on clients' appearance as they listen.
Volunteering my
time and resources to benefit the community makes me humble and
selfless. The experience of volunteering inspires me to continue to
give without expecting anything in return.