Name: Madison Thomas
From: Muskogee, Oklahoma
Grade: Sophomore
School: Hilldale High School
Votes: 0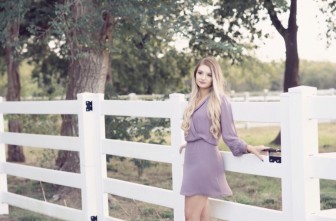 My name is Madison Thomas, and I am currently a senior at Hilldale
High School. I am a member of eight different organizations,
including National Honor Society, NIKE, and FCCLA which are clubs
that actively serve the community by volunteering throughout the year
at food pantries, Toys for Tots, blood drives, and more. Because of
these organizations, it has opened the door to so many opportunities
to help out my community.
My most memorable experience with volunteering and community service has
been my sophomore year when I helped out during Christmas at the
Salvation Army. Twice a week I sat at the Christmas trees at our
local mall for two hours watching and waiting for people to come and
pick an angel off the tree for a child in need of presents that year.
When it got closer to the day we had to hand off the toys to all the
parents that couldn't afford Christmas presents that year, we
started to organize all the toys. There were rows and rows of
bicycles and so many other things. I had never seen so many toys. It
took an entire empty Staples building to hold what our entire
community had gotten together to donate. When the parents arrived,
we started moving shopping carts of toys out to their cars. These
parents broke down crying in complete wonder at how happy they were
to receive such gifts for their children. Their kids were getting
exactly what they wanted this Christmas. Parents hugged me and
thanked me, and I started crying too. A big challenge as a volunteer
for me is getting too emotional. The entire experience was something
that moved me and the experience showed me that I want to help out
people in need because the overwhelming feeling of gratitude and the
satisfaction of helping people that really need it, is such a good
feeling. I have helped again with this event my Junior and Senior
year as well. Because of my many volunteering experiences, I have
realized that I wanted to get a degree in medicine to continue
serving to help people in need for the rest of my life.