Name: Lucia Maldonado
From: San Bernardino, California
Grade: High School Junior
School: San Bernardino Valley College
Votes: 1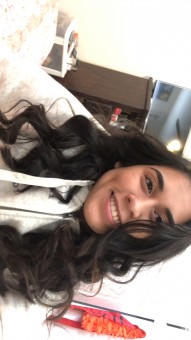 Lucia Maldonado
Youth Forward Scholarship
Coming from a charter school, their focus was not on community
service hours but more on getting their students to graduate. They
didn't really have any clubs or extracurricular activities. I
joined the one club my center offered which was Student Council. We
did some community service hours here and there but we mostly just
brained stormed ideas that we knew were never really going to happen.
We were so focused on school that we never stopped and looked at all
the poverty that was around us.
Living in San Bernardino you see a great deal of homeless, hungry,
and poor people. It hurt to watch but it got to the point where it
was normal to see people suffer like this. In a meeting for the club,
we got to talking about our community and the struggle we have seen.
It was heartbreaking to see how people had so much desire to help but
no resources to do so. We had the will but not the income. The
conversation ended there but the teacher in charge was inspired by
it.
The next meeting came and I remember how excited I was. We walked in
and our assignment for the day was to make what we called "Hope
Kits" for the homeless in our area. We had to fill these paper bags
with staples for everyday necessities. They were filled with
water,toilet paper, hand sanitizer,wipes and messages of hope.
It may not seem like a big deal but it was a really heart warming to
see my classmates try and help our community. We not only helped them
get by in life with materialistic items but with hope and love. We
showed them that there is still good people out there in the world.
We showed them that they matter no matter who said they didn't. We
showed them courage.
It may not be the biggest act of kindness that could've been done
but it was the most we could do. We didn't just do it to put it on
our college applications but as a lesson on life. We learned that we
should appreciate what we have because it could be worse. That day
was the moment when I knew that I wanted to leave San Bernardino only
to come back and help rebuild my city.