Name: Christian Mcborrough
From: Brooklyn, New York
Grade: 10th
School: New Utrecht HS
Votes: 0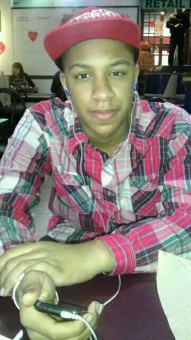 8th grade had just ended and summer had begun. After saying good bye to
my friends who were going off to foreign countries and having fun
with their parents, I knew all too well of what my summer had in
store for me. I would stay home playing video games and watching
cartoons. This hadn't seemed all too bland to me as it was I
usually did. However one day my mother came to my room and handed me
a flier to join a program known as Brooklyn Community Services.
I began going to BCS three times a week during the summer just to a
meeting where we would discuss any issues we had with our community.
Sometimes the things we discussed would become a reality and we would
go out from the office that we were usually in, and help our
community. One time we went around my hometown, Coney Island, to hand
out food to the homeless. Eventually we would get to plan an event on
the boardwalk near my house which we used to raise money for breast
cancer. We even got Arizona, the drink company, to help fund us by
sending us drinks to give to the participants on such a hot summer
day. The event ended up to be quite the turn out, however the program
finished after the boardwalk fundraiser. I said my goodbyes to BCS,
but they were only temporary.
When the school year had begun, BCS had called me back an offered me the
chance to be a part of a program where we go around the community
helping out those in need. I swiftly answered yes and from there on,
I never did regret that decision. At first we would have meetings
every Wednesday to discuss more about our community and how we could
help it. However eventually we would soon move onto volunteering at
these different locations to help out our community. The site I got
placed in was a church called Coney Island Lighthouse Mission, which
doubled as a tutoring center and a food pantry on Tuesdays and
Thursdays. 10 hours a week I would come in to help tutor children and
hand out food to the needy. It would spark a feeling in me that made
me understand why people would participate in these types of
programs. Volunteering is not about just achieving the required
amount of hours that some program or high school diploma requires you
to do. Volunteering is more for giving back your free time to the
community so that others can have the chance to feel blessed. Each
day that I walked in I saw the faces of the children light up in
enjoyment. I made them feel a way that they never could since no one
was there for them. Especially since the parents of those children
did not always have the time of day for their kids. And so this is
why I choose to volunteer, to give back to the people.