Name: James Birge
From: Watertown, Connecticut
Grade: Highschool Junior
School: The Taft School
Votes: 0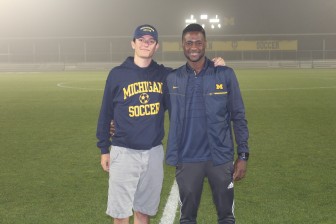 Right To Dream USA
My names is James
Birge and I am a junior at The Taft School in Connecticut. Taft has
continued to teach me about being inclusive and of service to others.
During my freshman year at a different school,called Canterbury, I
was able to practice what I have heard preached. Canterbury school
has a plethora of students from other countries. I learned that the
road to a private boarding school is different for everyone, and in
most case, it can be exponentially more difficult for students who
come from far away. For example, a student in my Biology and English
classes named Seidu Shamsudeen came from the Right to Dream Academy
in Ghana. Right to Dream takes exceptional soccer players, who also
do well academically, from Ghana and provides them with a scholarship
to American high school's and colleges. These Right to Dream
students will then return to Ghana to become leaders and mentors in
their communities. Little did I know that the Right To Dream
organization would mean so much to me.
At Canterbury, I
quickly became friends with Seidu. Seidu's host family couldn't
take him everywhere they went so my family and I became a backup host
family for him. Through Seidu, I met another Right to Dream student,
Mohammed Zakyi. Last year, Zakyi asked if my mother and I would take
him in and become his host family and we instantly accepted. Zakyi
has become such an important part of my life.
I feel as if Zakyi
is my brother. This experience has taught me alot about myself. About
how being inclusive makes me feel good. Helping Zakyi feel
comfortable in my home and welcoming him into the family has been one
of the most important jobs I have had.Understanding that there are
kids who have to leave their families and homes to have a better
lives makes me feel grateful for everything I have.
The job of a Right
to Dream host family is not always a simple one. You have to take in
another child, help pay for some of their things, help them figure
out school and other life things. Zakyi began his freshman year at
the University of Michigan and has needed help regarding his new life
as a collegiate soccer player, as well as a college student. I
support him and try to help him in every way I can.
Overall, becoming a
Right to Dream host family is a once in a lifetime opportunity, and
one I am incredibly grateful to be a part of. To have an impact on
the lives of people less fortunate than you is a truly humbling
experience. Because of this, Zakyi and Seidu will always be a part of
my life as they continue on with their soccer careers and work to
usher in a new and powerful Ghana in the future. I feel priveleged to
have been part of their journey and grateful to have a brother.