Name: Mikaila Intemann
From: Surprise, Arizona
Grade: mikib2000@gmail.com
School: Imagine Prep at Surprise
Votes: 0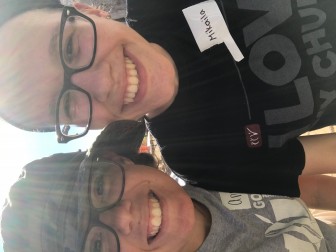 I
want my volunteer activities to make others see and want what I have,
which is the hope and love of Jesus.
I
choose to invest in volunteering in several areas, including the
coffee shop at my church, Key Club, National Honors Society, and
mission trips. The area in which I love to volunteer the most is the
Student and Kids ministries at my church. I volunteer in the Students
and Kids ministries as a group coach/leader for two hours weekly
because I want to help the students and kids become closer to God and
pass on what I learned from my own mentors who volunteered to help
me. I was poured into as a young teenager by mentors as I still am
today through my church. My weekly responsibilities as a coach in
these ministries are to guide the students and kids through the
prepared lesson that the church provides, as well as being a mentor.
They know they can come to me at anytime with any questions or
concerns that they have. My time and life experiences are there for
them to learn from anytime.
The
recurring challenge I face in this volunteer leadership role is
knowing what kind of difference I am making in my groups of students
and kids. It is a constant challenge when one is in a position of a
leader to not only get the information across in the most effective
way, but to have a lasting impact. This fades to the background when
I see the kids and students in my groups accept the love of Jesus by
getting baptized. I get great satisfaction by seeing them understand
what God wants for them and serve their community. I get to see how
my actions affect their lives and in turn how they apply it to help
others. As the leader, what I say influences how they think through
life changing events, life choices, ethics, and relationships. I am
intentional with my words and actions so I can affect my group in a
way that moves them to act on what I teach them. They also look up to
me as a leader since I have experiences that they will soon go
through.
My
activities are "forward looking" because it automatically pays
forward by leading others to do the same as I did. The impact of
these activities can be anything from making others feel the need to
help others to bringing others to Christ. "Forward looking" to me
means that the things you do have an impact moving forward. Many
years from now, I do believe that my volunteer activities will have
made a difference; I will have poured into kids and students so that
they will want to do the same for others. I hope that they choose to
share the love of Christ because I took the time to share it with
them.