Name: Patricia Whyte
From: Spring Branch, TX
Grade: 11
School: Smithson Valley High School
Votes: 17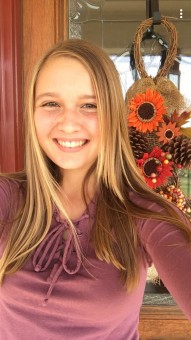 Patti Whyte
HS Junior
November 21, 2017
My
Growth Through
Volunteerism

This past summer, I decided to start volunteering,
thinking it would benefit the community and our world. Since August
of 2017, I have partaken in volunteer work for the Bulverde Area
Humane Society. I chose this place because it is an animal shelter in
which I felt I could give back to the community while having a good
time with the animals and people there. In the summer, I volunteered
about 3 hours each day for 5 days a week for a couple of weeks. Now
that I have school, I volunteer about 3 hours every Saturday.

As a volunteer, I do whatever is needed for the
shelter at that time. I walk the dogs around the property, through
the trails, or to a field. There are multiple open areas or 'fields'
for us volunteers to let the dog loose to play with them or let them
run around. I can bring the dogs into smaller areas and brush them,
pet them, or work on tricks with them on a more intimate and serious
level. Plus, I can give a dog a bath if I feel they are dirty.
Another responsibility I have is to play with and pet the kittens or
cats when I can.

One of my biggest challenges volunteering at
B.A.H.S. was having to let a dog named Jax go after working with him.
I trained Jax for weeks, knowing that his new tricks and high level
of obedience would lead to him being adopted, forgetting that meant I
wouldn't see him anymore. I felt super gracious when I found out he
was adopted, but at the same time, I struggled through this
experience. Because Jax was my trainee for a while, we have a bond
that will last forever.

There are many things I have to do as a volunteer
to help out at the humane society, and they are so fun for me because
I enjoy being in their company. Inevitably, this volunteer work I've
been doing has encouraged me to start "forward looking" into my
life even more so than before. Now that I have been taking care of
animals even more, I have immersed myself in something that I really
do love. In my volunteer work, I seek joy in the animals and other
volunteers and staff because that's what's given me the most
satisfaction. Being at the shelter has helped me narrow down my
ambition in life. To bring out the happiness in others by potentially
being a veterinarian is my ultimate goal. If I were to come back in
20 or 30 years, I hope my volunteerism will have brought about tons
more smiling volunteer staff and people who adopt. I believe it will
make dogs and cats so content that they'd live fuller and more
enjoyable lives. I have learned that volunteerism makes better
citizens and a better society for everyone to live in.