Name: Eunice E Medina
From: Woodland Hills, CA
Grade: 2018 senior
School: eunice731@aol.com
Votes: 7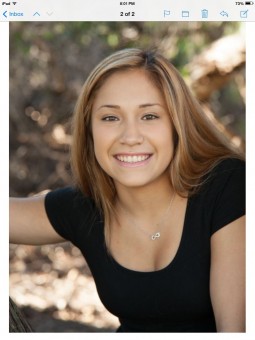 My Life in Three Parts
I've lived my life in three parts. I was born into foster care, lived in 27 homes
and attended 15 schools before I turned 12. When I was 11, my social
worker placed me in a program called Kidsave. This program gives
often forgotten older kids living in group homes and temporary foster
homes loving parents and lifelong mentors. I met my foster mom
through Kidsave. She has fostered me for six years and has changed my
life. Now I'm a senior ambassador for Kidsave. I help other foster
youths find families. Finding my foster mom was part one of my life.
It was also the beginning of my commitment to volunteerism.
Part two of my life had highs and lows. Meeting my foster mom made me optimistic for
the first time. But since I had switched schools so many times, I was
way behind. However, I had amazing teachers who saw my potential.
American author and poet, Maya Angelou states that "God puts
rainbows in the clouds so that each of us – in the dreariest and
most dreaded moments – can see a possibility of hope>" When I
was 12, I found my rainbows. My mom is my brightest rainbow, but my
teachers were rainbows too. As I saw how others helped me thrive, I
realized that I wanted to help people too. When I started high
school, I volunteered at animal shelters and senior homes. Those
experiences made me realize that I want to pursue a career in law or
public service, and share my strengths with others.
You would think that my story ends here, with a happily ever after, but it doesn't.
Towards the middle of my freshman year, I fell in with the wrong
people and made some bad choices. My foster mom sent me to a boarding
school in Florida. This This was the start of the third part of my
life. My foster mom never gave up on me and I began to learn how to
never give up on myself. I realized that even though I wanted a
career in service, I had to help myself, before I could help others.
My volunteering became an important stabilizer in my life. I worked
hard in Florida, made the honor roll, took additional classes, and
became a school delegate. My experience there changed my life for the
better. I had never really examined the trauma in my early life. In
Florida, I really reflected on how foster care impacted me. It took
work to redirect my life back on track. I accepted help. Foster care
was something I had to overcome and something that made me better
understand how I can help others. This past June, I was the volunteer
keynote speaker at the Kidsave Gala to help inspire others to face
their own challenges.
The fourth part of my story has yet to be written. I look forward to attending collge
and studying criminology or sociology so I can help others, like
others have helped me. I intend to continue my volunteerism with
Kidsave and other advocacy organizations. Maya Angelou also wrote a
poem about rising out of adversity – "I will rise." I rose from
foster care, neglect and abuse. I rose to academic honors. I rose
from bad choices. It is my rainbows that guided me. I will return the
favor by continuing to be an advocate for foster youths.