Name: Amber Ladhani
From: Glen Allen, Virginia
Grade: 8th grade 2015-2016 10th grade 2017-2018
School: Glen Allen High School
Votes: 0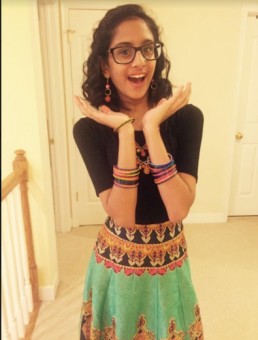 "There
is no limit on the amount of education you receive. The opportunity
to receive an education is a blessing from Allah (God), and we must
use that education is a wise manner." – My Father. My name is
Amber Ladhani and I am a sophomore at Glen Allen High School. Ever
since I started attending school, my parents have emphasized the
essence of education in order to succeed in life. Currently, I am
undecided about my future career, however, I have been thinking a ton
about becoming a teacher for young students. I think volunteering to
teach children as an adolescent can help me in the future for my
career.
Every
alternate Saturday, I volunteer to educate children from different
parts of the world; I teach in a small center called Early Childhood
Development Center (ECDC). Although I am not a main teacher for the
students, due to my young age, but I am an extra activities teacher
and I teach children, from ages three to six, to discover their
surroundings, think with a creative mindset, and STEAM (Science,
Technology, Engineering, Art, and Mathematics). I have taught
children for around three years in the mosque, and without this
experience, I do not think I would have become the person I am today.
Every week, I spend around four hours preparing activities for class
and teaching children. Monthly, I spend around eight to twelve hours,
and yearly, I spend around 96-144 hours with ECDC! As a teacher, I am
responsible for the child's safety and education, therefore,
teaching is not an easy task which should not be taken for granted.
Since parents are usually not in the classroom for activity time,
safety and education is a delicate protocol that teachers should
handle in a professional manner; our responsibility is not taken with
a light heart, especially when the child's parents are trusting
teachers with their children.
Teaching
is one of my passions and I am proud to volunteer as a teacher for
children. The satisfaction teachers receive from teaching children is
unbelievable; seeing children showing their parents the criteria they
learned that day is a proud moment for a teacher to feel. The child's
face glows with excitement when they learn something new, and
speaking from a teacher's perspective, that is the most beautiful
face in the world. Receiving and interpreting education at a young
age can greatly impact the child's school life.
Teaching
is an experience that has encouraged me to receive a proper education
by thinking with an optimistic mindset for school. I am now one of
the top students in my grade level for having a great GPA, and ECDC
has taught me the importance of education. Volunteering to teach
children is a huge amount of effort a person gives to help the future
generation of children. I would never regret this opportunity in my
life. Teaching young children is a great feeling to experience,
knowing that it can have a great impact towards the future.