Name: Emily Walters
From: Fayetteville, NC
Grade: 10th
School: Terry Sanford High School
Votes: 0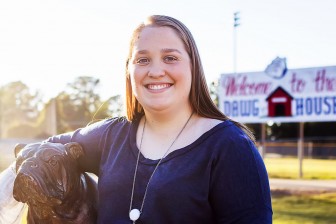 For the past twosummers  I have volunteered at Cape Fear Valley Hospital as a junior
volunteer. I have chosen to volunteer at this hospital because I have
an interest in the medical field. Every day was a new experience and
it was never something I was forced to do. I wanted to be there
everyday and to learn from others and what they do.
Each summer, for two weeks I would go to the hospital and volunteer wherever I was
needed. Within the two weeks I had eighty hours of volunteering. Even
though this is a summer program I have come back on one day
volunteering with my school. Next semester at my high school I will
be volunteering more as one of my classes called CTE Advanced
Studies.
As a volunteer I had different responsibilities each year, my first year I was a
volunteer in the Friends of Cancer Center. When I went to volunteer I
got the chance to chat with patients who may have been having a rough
day. I learned many stories of the patients and some would tell me
about their diagnoses. Along with talking with them I would
occasionally bring them snacks and drinks that included bananas,
cookies, yogurt, coffee, hot chocolate, sodas and water. During my
second year I volunteered in the Physical Therapy gym. I was able to
supervise the physical therapists and therapist assistants as they
worked with the hospitalized patients.
My biggest challenge during my volunteering time was to not getting too involved
with them. Over the course of two weeks I saw the same patients over
and over again and time after time they would recognize me and ask me
how I have been since they last saw me. In a hospital setting a lot
of them from time to time get lonely so they were thrilled to talk to
others.
The thing that has given me the most satisfaction as a volunteer is knowing that I may
have made the patients day just a bit better. A lot of times they
want to get to know me and who I am and just that small talk gets
there mind off there diagnosis or injury. From volunteering in these
two positions I have gained a lot of insight of what I would do on a
daily basis once I get my degree and start my career.
To me forward looking means to look forward toward our future. These activities
gave me the chance to look forward to what I may be doing one day and
that may meet volunteers just like myself who are looking to be in
the medical field. From my volunteer activities I hope to make a
difference in the medical world since I have seen things that work
and that don't work. In twenty or thirty years from now I will look
back on these opportunities as clarity of when I knew that I wanted
to be a physical therapist.