Name: Katelynn Kurtz
From: Roselle, IL
Grade: Sophomore in High School
School: Lake Park High School
Votes: 26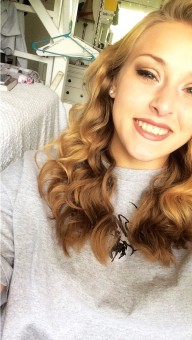 Katelynn Kurtz
Lake Park High School
I come from a very large extended family. I have ten cousins, eight of
whom are younger than me. Five of them belong to the same parents,
and i spend a lot of time helping out with the two babies, the
toddler, and the two teenagers. I also actively babysit ten children
and clean houses in an effort to earn money for college, because I am
an independent student. I babysit because I love children and it
gives me an opportunity to watch them develop their own personal
philosophies. Cleaning is also a very enjoyable activity for me
because I enjoy making things neat and organized. I can use these two
activities as a way to fund my adventures and to gain responsibility.
I engage my artistic side by painting intricate and beautiful designs
on river rocks found on many of my explorations throughout the
country. I do this as an outlet and a constructive way to relieve
stress. I sell my painted rocks as another way to fund my adventures.
My primary explorations are in the form of mission work. With my
church youth group, I have served two consecutive missions and will
be pursuing two more in the upcoming summer. My first mission trip
was to Savannah, Georgia to aid in the hurricane relief. I spent ten
days living within the community repairing and painting houses and
building wheelchair ramps and porches. From this experience, I
developed an idea of who I am as an individual and discovered my
passion for helping others. I continued this passion by going on
another mission trip last summer to Busby, Montana. While there, I
was living on the Northern Cheyenne Native American reservation with
the Morningstar people. Through this experience, I learned what it
truly means to be a compassionate human. I connected with so many
brave souls who endured generations of hardships and suffering. A few
of the children of the reservation would constantly mingle with our
groups. Most of them were orphans. One girl in particular was a
nine-year old named Lilac. She told us about how she watched her
mother die in the previous year. As she told us this, she explained
how her religion is centered around the soul being eternal. It leaves
the physical body to live in the hearts of its community members. She
told us that everyone in their reservation that had died still
resided in her heart and that when she felt it beating, that meant
that they loved her. While our religious views don't exactly align,
we were similar in that we both lean heavily on our faiths. Mine
happens to be the backbone of my entire family, just like the
families on the reservation. This mission trip really opened my eyes
about finding purpose in the suffering of life. Lilac in particular
inspired me to find purpose in my life. I was able to connect with
her in a sense, because I don't have my parents in my life either.
I was able to take her story to heart and use it to be more positive
about my story. For me, I strive to discover purpose by engaging in
my community. I am co-president of my high school Earth club. This
allows me to teach young minds to cherish their surroundings. I am
also an active member of Spanish Honor Society. I had the opportunity
this past summer to study abroad for two weeks in Seville, Spain with
the other members of the honor society. This allowed me to fully
experience another new culture and to learn more about how different
communities work. Through these experiences, I have grown to be a
leader in my community. I lead worship in my church and in my youth
group every sunday. I actively engage my peers in school and in
extracurriculars. I engage my family in active thinking about the
world and by constantly teaching the young ones about unconditional
love, because it has been vital to nourishing who I am today. I
strive to contribute to my community as much as possible because I am
as much a part of it as anyone else. I hope to be able to love
without boundaries, because life is about what you give, not what you
get. Through this philosophy, I intend to use my scientific career to
cultivate a sense of adventure and curiosity in everyone that I will
meet. Overall, I hope that my impact on the communities that I have
done mission work for has been huge. In a few decades, I would hope
to see those communities thriving.